Polymer Physics
Characterization and failure ...
Physical Testing of Thermoplastics
Mechanical properties of polymers ...
Thermosetting polymers
Polymer testing
Tensile Creep and Deformation Modeling of Vinyl Ester Polymer and Its Nanocomposite
Viscoelastic Properties of an Epoxy Resin during Cure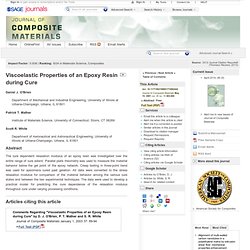 The cure dependent relaxation modulus of an epoxy resin was investigated over the entire range of cure extent. Parallel plate rheometry was used to measure the material behavior below the gel point of the epoxy network. Creep testing in three-point bend was used for specimens cured past gelation.
By: Campo, E. Alfredo © 2008 William Andrew Publishing/Plastics Design Library Description: This handbook steers engineers and designers onto the right path to selecting the appropriate values for each plastic property. A large amount of property information has been provided. Front Matter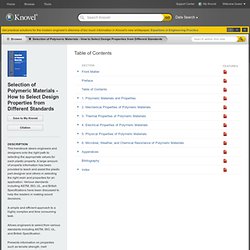 Selection of Polymeric Materials - How to Select Design Properties from Different Standards
Creep (deformation)
In materials science , creep is the tendency of a solid material to move slowly or deform permanently under the influence of stresses . It occurs as a result of long-term exposure to high levels of stress that are below the yield strength of the material. Creep is more severe in materials that are subjected to heat for long periods, and near their melting point. Creep always increases with temperature. The rate of this deformation is a function of the material properties, exposure time, exposure temperature and the applied structural load . Depending on the magnitude of the applied stress and its duration, the deformation may become so large that a component can no longer perform its function — for example creep of a turbine blade will cause the blade to contact the casing, resulting in the failure of the blade.