Wordpress général
Three Sexy Performance Rules for .htaccess on WordPress: Configure ETags, Gzip Compression, and Expires Headers | DQuinn.net
Matter and energy had ended and with it, space and time. Even AC existed only for the sake of the one last question that it had never answered from the time a half-drunken computer ten trillion years before had asked the question of a computer that was to AC far less than was a man to Man. All other questions had been answered, and until this last question was answered also, AC might not release his consciousness. All collected data had come to a final end. Nothing was left to be collected.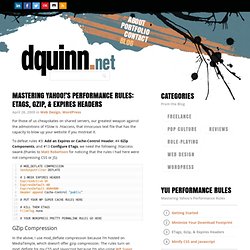 Mikoder : wordpress
Updated: September 16th, 2012 Introduction In this tutorial, I am going to introduce a WordPress technique that I believe was unpublished until I raised the question a few days ago on the WordPress forums. In short, the problem I was trying to solve was plugins unnecessarily loading their JavaScript and CSS on *every* page of the blog, even when doing so would achieve absolutely nothing and the plugin wouldn't do any work .
How To Include CSS and JavaScript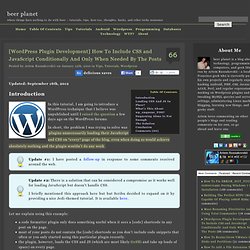 Désactiver les scripts et les styles des extensions ! sur Geekeries.fr | Découvrir WordPress
Disappearing Custom Post Data - Mikoder : Making a Difference Th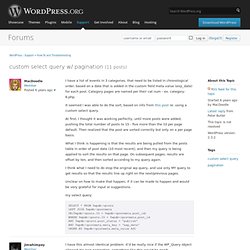 First of all, thanks for the help aesqe - I've had to use it on 2 projects just since you posted this, its been a lifesaver. Im working on another project now where I need to use it - Im using a custom sort to sort by total votes from a post voting system - but I've run into a problem: The blog Im working on is a normal blog first and foremost - I only need to work with one category. All is going fine, except that I want to set the page per post value to 5 - whereas it is 10 on the rest of the blog. Hardcoding $ppp seems to work great at first - but in practice, it gets a little trickier.
Support » custom select query w/ pagination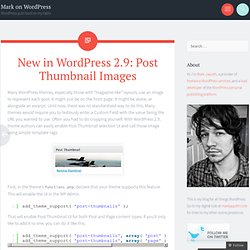 Many WordPress themes, especially those with "magazine-like" layouts, use an image to represent each post. It might just be on the front page. It might be alone, or alongside an excerpt. Until now, there was no standardized way to do this. Many themes would require you to tediously enter a Custom Field with the value being the URL you wanted to use. Often you had to do cropping yourself.
Use WordPress As a CMS: Plugins, The Bare Minimum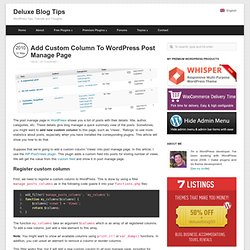 The post manage page in WordPress shows you a list of posts with their details: title, author, categories, etc. These details give blog manager a quick summary view of the posts. Sometimes, you might want to add new custom column to this page, such as 'Views', 'Ratings' to see more statistics about posts, especially when you have installed the corresponding plugins. This article will show you how to do that. Suppose that we're going to add a custom column 'Views' into post manage page.
Add Custom Column To WordPress Post Manage Page - Deluxe Blog Ti