Webdesign
Think vitamin create a searchable google map. THE ECO ZOO | ECODA!DOBUTSUEN. The Web Developer's SEO Cheat Sheet. The author's posts are entirely his or her own (excluding the unlikely event of hypnosis) and may not always reflect the views of Moz. February 16, 2014 - Updated to Version 2.2: We've uploaded a brand new version of the PDF. It now reflects changes to Google's mobile user-agents. It is my honor and privilege today to introduce the brand-new version of The Web Developer's SEO Cheat Sheet. This free and downloadable document covers all of the important SEO code and best practices that are needed by online marketers and developers. Benefits and features. MCTween extension for flash. Just what the hell is MC Tween?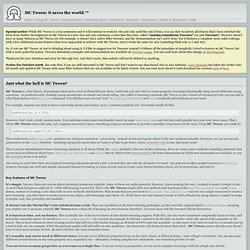 MC Tween is a free library of prototypes that can be used on Flash MX and above (with both AS1 and AS2) to create property tweenings dinamically using several different easing equations - in practical words, creating easing animations via simple and small coding. Also called a tweening extension, MC Tween is just a bunch of actionscript code you can add to your Flash movies via a #include command. You will then have several "new" MovieClip, TextField and Sound methods and functions at your hand.
Fantasybox. Style website Awards | ALL_0. Incandescence studio de création. Flash Player TechNote : How to make a Flash movie with a transparent background. SimpleViewer Download. Support For support and instructions, visit the Support Home.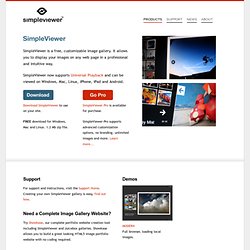 Creating your own SimpleViewer gallery is easy, find out how. Need a Complete Image Gallery Website? Try Showkase, our complete portfolio website creation tool including SimpleViewer and Juicebox galleries. Showkase allows you to build a great looking HTML5 image portfolio website with no coding required.
---