Webdesign
think vitamin create a searchable google map
60 more helpful ajax tutes
MCTween extension for flash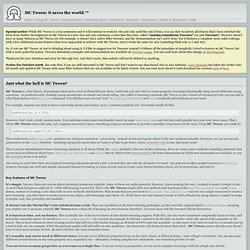 Just what the hell is MC Tween? MC Tween is a free library of prototypes that can be used on Flash MX and above (with both AS1 and AS2) to create property tweenings dinamically using several different easing equations - in practical words, creating easing animations via simple and small coding. Also called a tweening extension, MC Tween is just a bunch of actionscript code you can add to your Flash movies via a #include command. You will then have several "new" MovieClip , TextField and Sound methods and functions at your hand.
fantasybox
Style website Awards | ALL_0
incandescence studio de création
Flash Player TechNote : How to make a Flash movie with a transparent background
les tendances du web design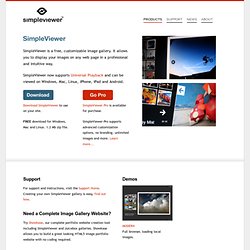 Universal Playback SimpleViewer now supports Universal Playback and can be viewed on Windows, Mac, Linux, iPhone, iPad and Android. Controls Mouse: Click thumbnails or the main image to navigate. Keyboard: Use Cursor keys, Home, End, Page Up/Down to navigate. Press 'F' to toggle Fullscreen mode.