Jquery
jQuery validation plug-in - main demo. jQuery lightbox for images, videos, YouTube, iframes | Stéphane Caron. To open inline content, simply: Create a link (<a href="#">).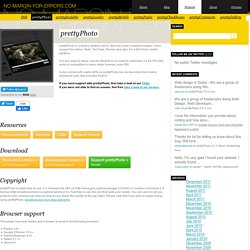 Add the rel attribute "prettyPhoto" to it (rel="prettyPhoto"). Change the href of your link so it is the ID of the inline content you want to open with the ID CSS selector (#). This is inline content opened in prettyPhoto. Jquery-swapimage - Project Hosting on Google Code. This project has been moved to Github: Swap image with jQuery, flexible and easy way.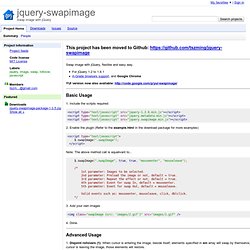 YUI version now also available: Basic Usage.
Library
The Ultimate jQuery List. Tipsy tooltip. Overview Tipsy is a jQuery plugin for creating a Facebook-like tooltips effect based on an anchor tag's title attribute.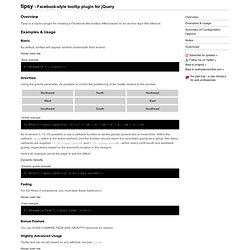 Examples & Usage Basic By default, tooltips will appear centred underneath their anchor: Preloading Images with jQuery and JavaScript. Creating effects on websites using jQuery and other JavaScript has really grown from flashy extras to full on applications in the browser.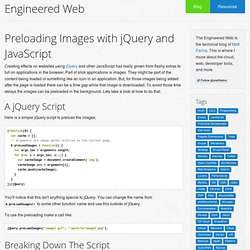 Part of slick applications is images. They might be part of the content being loaded or something like an icon in an application. But, for those images being added after the page is loaded there can be a time gap while that image is downloaded. To avoid those time delays the images can be preloaded in the background. Lets take a look at how to do that. Use jQuery - Showcase of sites that use jQuery.
---