Calendar
Creating a calendar in ActionScript 2.0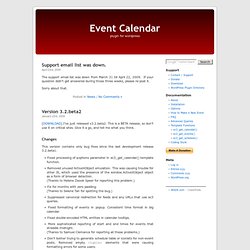 Support email list was down. April 23rd, 2009 The support email list was down from March 31 till April 22, 2009. If your question didn't get answered during those three weeks, please re-post it.
Event Calendar
Web Worker Daily » Blog Archive Rock Your Google Calendar in 18 Ways «
Google Calendar doesn't get much love or attention these days. Some users are wondering if Google's forgotten about it. Still, it's a pretty cool web app, especially if you learn the ins and outs and use it collaboratively with colleagues, friends, or family. If you've been using it since it was introduced last year, you may know how to do many of these things. Maybe you even have your own tips and tricks for making it really rock. If so, share them in the comments.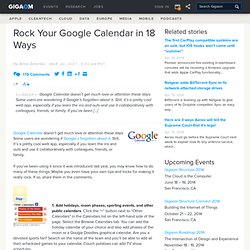 Howto integrate Google Calendar in your website using AJAX