Fashion
Get flash to fully experience Pearltrees
Sometimes there are moments when our closets are ho-hum and we 'definitely have nothing to wear'. These are the times that we need inspiration from other places. Enter the fashion film. Whether you want to channel your inner Cher Horowitz from Clueless and be the queen bee in knee socks, or fancy yourself more of a hippie gal like Penny Lane from Almost Famous, there's a cinematic icon for that.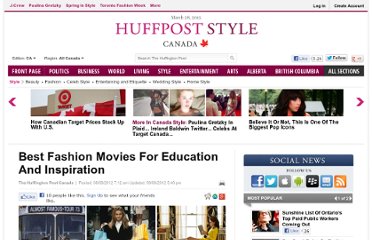 Share: Share on twitter Share on google_plusone_share Share on pinterest_share Share on stumbleupon Share on email 100 Years of London Fashion
Over the season of Lent, it is traditional in many Christian communities to give something up. Many people these days go for chocolate. For those who have foresworn this treat then London must seem like a warren of temptation at the moment. The Big Egg Hunt – a huge charity (and hopefully world record breaking) event has begun! Fortunately, perhaps, these eggs are not made of chocolate yet their raison d'être is just as sweet. They have been hidden (in plain sight) around London to raise awareness and money for two charities, Elephant Family and Action for Children.
Is it a bat, a butterfly, a moth, a pair of wolves, or even two dancers? However you perceive it, we certainly won't be examining your personality or providing you with a diagnosis today. Instead, we've collaborated with Sachin + Babi to create a fabulous statement necklace, inspired by three elements from their Spring 2012 Collection : Rorschach ink blots, leather, and gold! You'll need: 5″ x 7″ piece of faux leather vinyl Rorschach pattern (available here ) 8 feet of thin chain (cut into 19 5″ pieces) 20-21 inches of thick chain 21 4mm jump rings a black permanent marker double sided tape a leather rotary punch small sharp scissors 2 pairs of pliers