Budget2012
Budget 2012 cuts hit hard. Council of Canadians staff are now combing through the almost 500-page Budget 2012 and we will be issuing our second "media availability" release shortly so that campaigners may be contacted for interviews on the budget measures, including: The Canadian Press PRO-FREE TRADE - "Thursday's federal budget, the seventh since Stephen Harper took office, is the first with an overtly pro-trade and resource development bent and a dearth of voter-friendly goodies.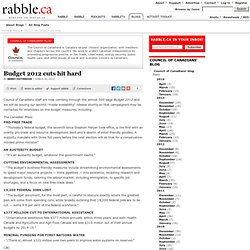 A majority mandate with three full years before the next election will do that for a conservative-minded prime minister." AN AUSTERITY BUDGET - "It's an austerity budget, whatever the government claims." 24 Hours Ottawa e-edition. Ottawa to slash environment review role - Politics. The federal government is reducing the number of departments and agencies that can do environmental reviews from 40 to just three to speed up approvals for projects that will bolster Canada's economy, Natural Resources Minister Joe Oliver said today.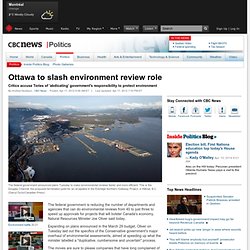 Expanding on plans announced in the March 29 budget, Oliver on Tuesday laid out the specifics of the Conservative government's major overhaul of environmental assessments, aimed at speeding up what the minister labelled a "duplicative, cumbersome and uncertain" process. The moves are sure to please companies that have long complained of a lengthy, costly review process, citing previous major projects that have taken almost a decade to gain approval. Third Choice < Campaigns | PSAC. Giant squirrel wreaks mild Canadian-style havoc. Posted by Claire | 30-04-2012 18:46 | Category: Government The latest video in the Public Service Alliance of Canada's (PSAC) online campaign against cutbacks to the public sector features a giant squirrel gently trashing a science lab.
When I first saw these videos I thought the squirrel was representing disease spread by squirrels throughout the Canadian wilderness due to reckless cutbacks to programs … Great, deadly squirrel disease, one more thing to worry about! As you watch carefully, it becomes clear the squirrel represents the federal government's threatened cuts to public services. Is the squirrel supposed to be Prime Minister Harper himself or just his malevolent paladin? Click "read more" for more furry critter action … Not Our Budget.
Zach Paikin: If Harper Isn't Reducing Debt, What Is He Doing? I've got a bit of a theory.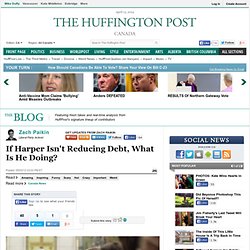 Bear with me here. Certain political commentators in Canada have put forward the proposition that the Harper government has at times resorted to unethical practices because the ends justify the means. The Tories supposedly believe that the ends justify the means because -- according to them -- the media, bureaucracy and judiciary are all stacked against them and hence they have to take "short cuts" in order to achieve their fundamental goals.
Question, however: What are these ends? Solidarity Against Austerity. Marches, rallies mark May Day across Canada | CTV Ottawa. May Day marches merged with protests against major financial institutions in cities across North America Tuesday, marking the most significant protest action in many areas since the Occupy movement cooled last fall.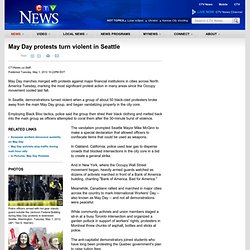 In Seattle, demonstrations turned violent when a group of about 50 black-clad protesters broke away from the main May Day group, and began vandalizing property in the city core. Employing Black Bloc tactics, police said the group then shed their black clothing and melted back into the main group as officers attempted to coral them after the 30-minute burst of violence. The vandalism prompted Seattle Mayor Mike McGinn to make a special declaration that allowed officers to confiscate items that could be used as weapons. In Oakland, California, police used tear gas to disperse crowds that blocked intersections in the city core in a bid to create a general strike.