DIY Vases
Get flash to fully experience Pearltrees
Home » $1 and Free , cheap crafts , Decor , Gifts to Make , Headline , Kids , Weddings 19 March 2009 67,262 views 17 Comments by heather
I made my own giant mercury glass vases!
So, I finally just changed all the burnt out light bulbs in my house. So now my left with old light bulbs and being the environmentalist I am, I do not want to throw them out. I want to make art with them! So I was looking at different crafts and I came across this vase. I was ready to make it on the spot but sadly I do not have all the materials, so I decided to share it with all of you!
WEDNESDAY, MARCH 23, 2011 | Comments: 75
April 8th, 2009 Email 1121 users recommend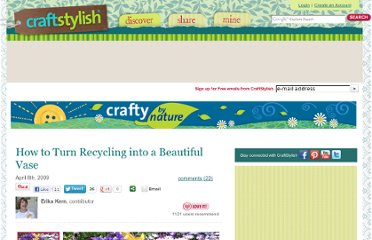 The server encountered an internal error or misconfiguration and was unable to complete your request.
Years ago I made Christmas ornaments with this method in red and white paints which I still hang on my tree.
Recently I've seen a few crafty ideas around the internet using epsom salts, but I wanted to come up with something different.
Once in awhile I'll come up with a project that I get a little obsessed with and can't stop making.