DIY Shoes
Shoe Makeover. I love the simple, carefree style of laceless tennis shoes, especially in the summer.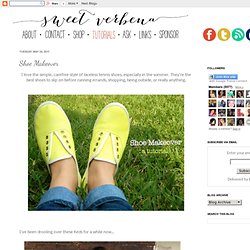 They're the best shoes to slip on before running errands, shopping, being outside, or really anything. I've been drooling over these Keds for a while now... However $50 for one pair of shoes really isn't in my budget. So when I saw plain white Keds knock offs at Walmart for only $5 , I knew exactly what I wanted to do. Materials Needed: DIY Bling Shoes. Everyone needs a little bling in their life!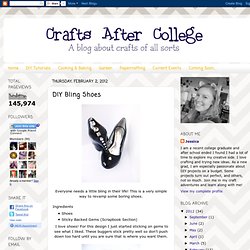 This is a very simple way to revamp some boring shoes. Ingredients. DIY Miu Miu Jeweled Heels. You can always rely on Miu Miu for sensational sparkly shoes.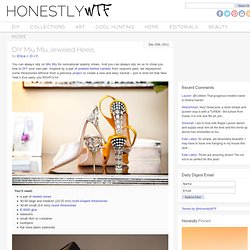 And you can always rely on us to show you how to DIY your own pair. Inspired by a pair of jeweled heeled sandals from seasons past, we repurposed some rhinestones leftover from a previous project to create a new and easy tutorial – just in time for that New Year's Eve party you RSVP'd to! You'll need:a pair of heeled shoes40-50 large and medium (10-15 mm) multi-shaped rhinestones30-40 small (3-6 mm) round rhinestonesE-6000 gluetweezerssmall dish or containertoothpickflat nose pliers (optional)
---