DIY Helpful
There are concerns that plastics used commonly for milk and water bottles are risky to reuse due to chemical leaching (if it's reused several times, partly because of surface wear on the plastic), and particularly with milk bottles, if you don't clean them well, they can be a bacterial risk. There's plenty of discussion on it. Truth be told the data out there does seem to be sketchy and the impact is unlikely, but I'd still personally prefer to get a container I know for sure was safe for repeated use with food, since it's very easy to do, even if you're broke. :) 9/18/11 9:10pm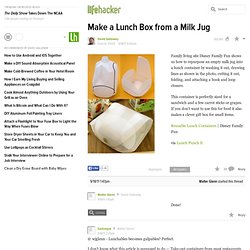 Boy do I have a treat for you today! The craftalicious girls over at eighteen25 are here show us how to make a Survial Kit. I can only imagine all fun I could have making these for my self and for all my girl friends!! Just think, bridesmaid gifts, Mother's Day, birthday, Christmas! So cute! Take it away ladies……………………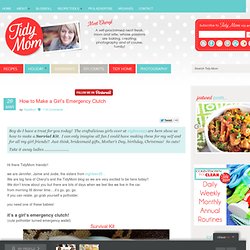 A Sock Bun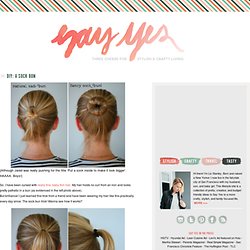 {Although Jared was really pushing for the title 'Put a sock inside to make it look bigger'. HAAAA. Boys!}
Hello everyone, my name is Kayla and I run SayNotSweetAnne.com. I'm a Graphic Designer from Grand Rapids, MI and I love to craft, cook, and a variety of other things. ;D I'm very grateful for this opportunity to guest post on a Skip To My Lou, and to "meet" all of you!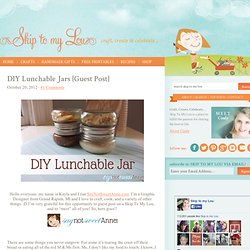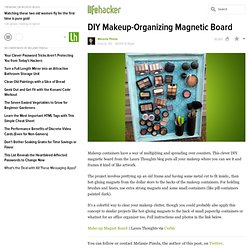 As is, this is too cluttered, but the idea could be made much better pretty easily. Many people have a plain mirror over the sink in the bathroom, and a separate medicine cabinet on a side wall or elsewhere. Depending on the depth of the medicine cabinet—and how much stuff you already have in it—the medicine cabinet could be retrofitted to accomplish this same idea but keep all the makeup out of sight. All you'd need to do is anchor a piece of metal to the inside of the medicine cabinet door, and potentially remove the shelves (or draw lines on the metal sheet where they line up with the shelves). Same benefit as the project here, and it doesn't clutter up the bathroom.
Why didn't I think of that? You'll be uttering those words more than once at these ingenious little tips, tricks and ideas that solve everyday problems... some you never knew you had! Hull strawberries easily using a straw. Rubbing a walnut over scratches in your furniture will disguise dings and scrapes. Remove crayon masterpieces from your TV or computer screen with WD40.