Inspiration
My love for you is a stampede of horses. Well hello!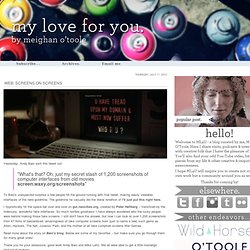 It's certainly been a while since I posted here. I've been waiting til the time is right — and for me 'to figure it all out,' to be totally honest — before I dropped any thing real on here. How About Orange. BOOOOOOOM! - CREATE * INSPIRE * COMMUNITY * ART * DESIGN * MUSIC * FILM * PHOTO * PROJECTS. Diy projects. A CUP OF JO. Design Crush. Mint: design, art, fashion, and wedding blog by ellie snow.
Life may be sad, but it's always beautiful. This isn't happiness™ Peteski. Livraire (livraire) on Pinterest. PARK & CUBE. Japanese Street Fashion: Photos by Akif Hakan Celebi | Origami Cupcake.
---