FUNdraising
Crowdfunding for entrepreneurs (Crowd Investing investment rounds for startups) | SocialCompare - Site communautaire de comparatifs
Nonprofit Fundraising Blogs
Knowledge Centers
Technology
Technology is critical to achieving the mission of philanthropic organizations large and small. This resource collection tracks the latest trends in grantmaking software, social media, and online tools that allow grantmakers to research, design and evaluate their work. Grants Management Software Our running list of options for managing the life cycle of a grant Due Diligence & Assessment Tools Online tools that help grantmakers evaluate both grantees and grantmaking Social Media Guide for Grantmakers Making sense of new tools in the philanthropic setting NCG's Tech Tuesday Brown Bag Group Informal brown bag sessions focused on social media and technology learning for grantmakers. TAG Announces Release of 2010 Grantmakers Information Technology Report From the Technology Affinity Group (November 2010) with an executive summary also available.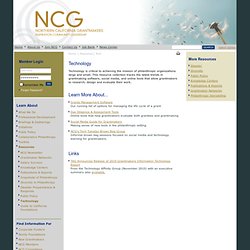 Grants Management Software
Grantmakers have several choices for software specifically designed for grants management. Each of the links below seek to help foundations manage and review incoming grant applications, track reporting requirements and outgoing payments for grantees, and create the many communications and reports needed throughout the process. The list leads off with some comparisons of grants management software from SolPath, IdealWare, and an older, but essential article from Foundation News & Commentary. Essential reading includes the work of Project Streamline, an effort of funders and nonprofits to improve grant application, monitoring and reporting practices. Along with Project Streamline, the Grants Managers Network and the Technology Affinity Group feature ongoing discussions of grants management software. Listing on this page represents no commercial endorsement by NCG.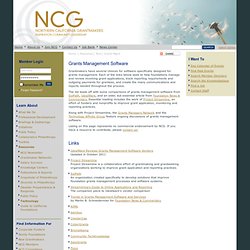 Request Demo | Altum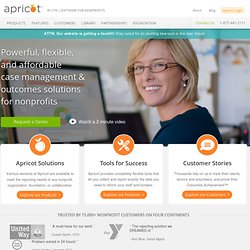 Community Techknowledge | Web-based software for nonprofits | Technology with a Heart
Want more information? Our nonprofit software solutions help organizations manage and report on various types of clients, activities and program data-generating reports on outputs, outcomes, performance and the impact of services and funding on communities. Call us anytime at 877-441-2111, or fill out the form and we'll be in touch soon! More About Us Apricot is offered by Community TechKnowledge, Inc.
CyberGrants, Inc - The Home For Online Grantmaking
We are proud to welcome aboard our latest client: The Hurricane Sandy New Jersey Relief Fund The Hurricane Sandy New Jersey Relief Fund (HSNJRF) is a non-profit organization dedicated to the relief and recovery of the victims of Hurricane Sandy. To date, the Fund has raised over $33.5 million from more than 28,000 donors world-wide.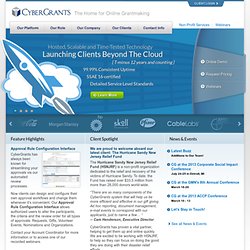 Search Options Member Login Forgot Password? Learn About Find Information For I Want To
Due Diligence & Assessment Tools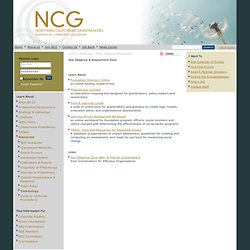 Foundation Directory Online (FDO) is an online funding research tool developed by the Foundation Center. FDO provides the current information available on U.S. grantmakers and their grants, drawn from reliable sources, including IRS Form 990s, grantmaker web sites and annual reports, and the grantmakers themselves. Offered as a both free and fee-based online subscription, users have the ability to keyword-search across Foundation Center's database of IRS Form 990s, map and chart the distribution of a funder's grants, and sign up to receive funder-specific e-mail alerts Implications for Grantmakers Known as a hub for grantseekers, FDO also has potential to assist grantmakers in their work:
Foundation Directory Online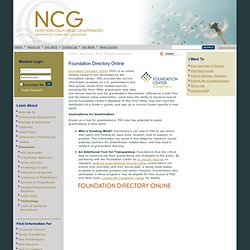 Philanthropy In/Sight : Login
Point K Learning Center
Learning Driven Assessment Workbook
TRASI: Tools and Resources for Assessing Impact
The Emergency Loan Fund (ELF) is a collaborative program of the members of NCG. It provides quick-turnaround, low-cost financial assistance to nonprofit organizations located in Alameda, Contra Costa, Marin, San Mateo, and San Francisco counties. The ELF was established in 1973 in response to the unique cash flow needs of nonprofit organizations, especially nonprofits whose services are in jeopardy due to cash-flow problems created by delays in the contracting or payment schedules of public and private funding sources and the absence of a substantial cash reserve. The ELF makes short-term, low-interest loans and gives small grants (up to $5,000) for technical assistance that builds financial infrastructure. So far the ELF has provided 1,289 low-interest bridge loans and 264 grants totaling over $31 million, a huge investment in the health of the Bay Area nonprofit community.
Emergency Loan Fund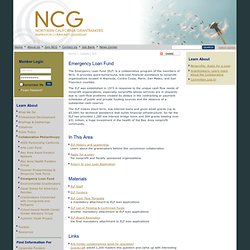 Get the <a href="http://www.widgetbox.com/widget/3bl-media">3BL Media</a> widget and many other <a href="http://www.widgetbox.com/">great free widgets</a> at <a href="http://www.widgetbox.com">Widgetbox</a>! Not seeing a widget? (<a href="http://docs.widgetbox.com/using-widgets/installing-widgets/why-cant-i-see-my-widget/">More info</a>) Blog wrap up & slideshow. 8 Principles of Good Disaster GrantmakingFirst, do no harm.Stop, look and listen before taking action.Don't act in isolation.Think beyond the immediate crisis to the long-term.Bear in mind the expertise of local organizations.Find out how prospective grantees operate.Be accountable to those you are trying to help.Communicate your work widely, and use it as an educational tool.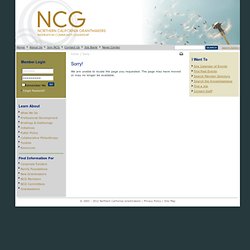 S.H. Cowell Foundation: Grants Assistant
GCYF: Supporting effective children, youth, and family philanthropy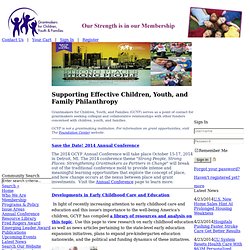 Grantmakers for Children, Youth, and Families (GCYF) serves as a point of contact for grantmakers seeking collegial and collaborative relationships with other funders concerned with children, youth, and families. GCYF is not a grantmaking institution. For information on grant opportunities, visit The Foundation Center website. Save the Date!
CFLeads: Community Foundations Leading Change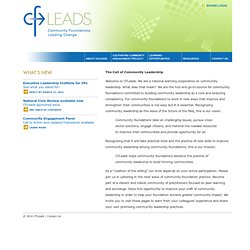 The Call of Community Leadership Welcome to CFLeads. We are a national learning cooperative on community leadership.
In its Sunset Year, the 2009 Summer Youth Project awarded $110,085 to 69 agencies conducting 169 programs throughout eight Bay Area counties. SYP acknowledges the work and dedication of the grantees who are serving over 50,000 youth this summer:
The 2009 Grantees
Stay Connected Since 2005, AFN has served as a catalyst for economic opportunity by bringing grantmakers together to learn, connect and reshape the discourse about what is possible. AFN is: A community of national, regional and community-based foundations and grantmakers who are passionate about using philanthropy to promote economic opportunity and financial security for all Americans.
Asset Funders Network
NorCal GrantMkr- RESOURCES