FUNdraising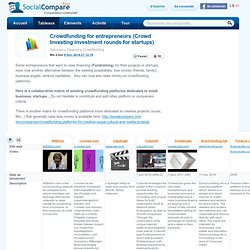 Some entrepreneurs that want to raise financing ( Fundraising ) for their projects or startups, have now another alternative between the existing possibilities: love money (friends, family), business angels, venture capitalists... they can now also raise money on crowdfunding platforms. Here is a collaborative matrix of existing crowdfunding platforms dedicated to small business, startups... Do not hesitate to contribute and add other platform or comparison criteria.
Crowdfunding for entrepreneurs (Crowd Investing investment rounds for startups) | SocialCompare - Site communautaire de comparatifs
Nonprofit Fundraising Blogs
Knowledge Centers
Technology
Technology is critical to achieving the mission of philanthropic organizations large and small.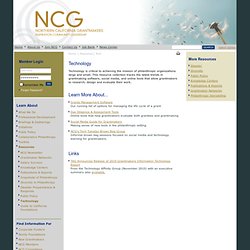 Grants Management Software
Grantmakers have several choices for software specifically designed for grants management. Each of the links below seek to help foundations manage and review incoming grant applications, track reporting requirements and outgoing payments for grantees, and create the many communications and reports needed throughout the process.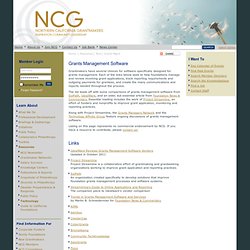 Request Demo | Altum
Community Techknowledge | Web-based software for nonprofits | Technology with a Heart
CyberGrants, Inc - The Home For Online Grantmaking
Search Options Member Login
Due Diligence & Assessment Tools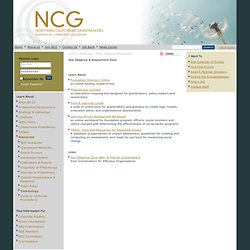 Foundation Directory Online (FDO) is an online funding research tool developed by the Foundation Center.
Foundation Directory Online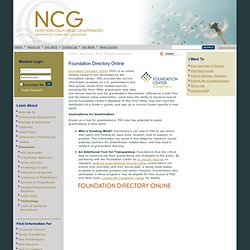 Philanthropy In/Sight : Login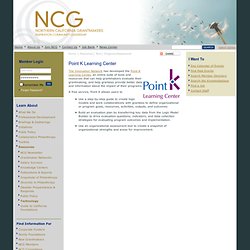 Point K Learning Center
The Innovation Network has developed the Point K Learning Center , an online suite of tools and resources that can help grantmakers evaluate their grantmaking, and help grantees provide better data and information about the impact of their programs.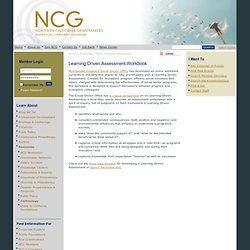 Learning Driven Assessment Workbook
McKinsey&Company's Social Sector Office has developed an online workbook, currently in the beta test phase, to help grantmakers plan a Learning Driven Assessment.
TRASI: Tools and Resources for Assessing Impact
Grantmakers for Effective Organizations (GEO)
The Emergency Loan Fund (ELF) is a collaborative program of the members of NCG.
Emergency Loan Fund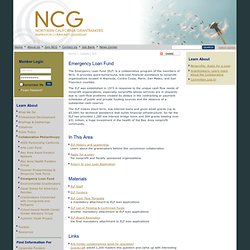 S.H. Cowell Foundation: Grants Assistant
GCYF: Supporting effective children, youth, and family philanthropy
CFLeads: Community Foundations Leading Change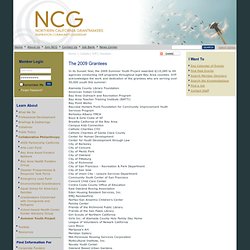 In its Sunset Year, the 2009 Summer Youth Project awarded $110,085 to 69 agencies conducting 169 programs throughout eight Bay Area counties. SYP acknowledges the work and dedication of the grantees who are serving over 50,000 youth this summer:
The 2009 Grantees
Asset Funders Network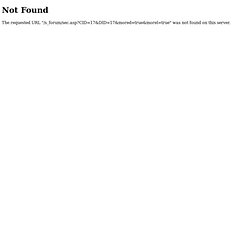 giving forum:Careers
Are you looking to begin or continue working in the field of philanthropy?
NorCal GrantMkr- RESOURCES