Games
Raghav Bashyal
Instagram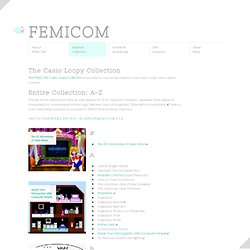 Museum Collection | FEMICOM, the feminine computer museum
The Casio Loopy Collection The FEMICOM Casio Loopy Collection is devoted to resources related to the Casio Loopy video-game console. Entire Collection: A-Z The list below represents titles as they appear in US or Japanese releases. Japanese titles appear in romanized but untranslated format (e.g., Wanwan Aijou Monogatari). Titles with a checkmark (✔) next to them have been acquired or donated to FEMICOM's physical collection.
Auditorium - Index
This post is just getting less and less timely. On the other hand, this question is timeless. "Birth of an Icon" - found at FreakingNews.com That said, the event which sparked this post happened almost a year ago now. So after reading this new post by Mark Danger Chen, which deeply abuts the themes of postmodernity which this here post is really about, I figured I'd better just hurry up and get this thing out the door today. While I wasn't able to make GDC last year, like virtually everyone else (who works in or around games) I was promptly informed by colleagues and blog posts about Heather Chaplin's now infamous rant regarding perpetual adolescence in games (or really perpetual adolescents in the games industry).
weblog - That old question again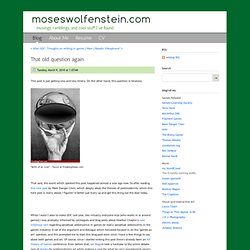 SOS_SLAVES Changing the trafficking game
www.envplan.com/epa/fulltext/a38/a37205.pdf
Kill Screen
Game Critics Awards
Publications - adrienne shaw
Journal Articles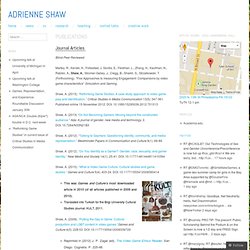 Welcome to indiePub Games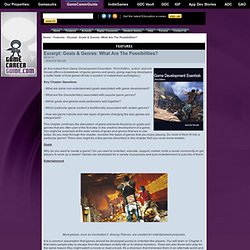 Excerpt: Goals & Genres: What Are The Possibilities? - GameCareerGuide.com
[In this extract from Game Development Essentials: Third Edition, author Jeannie Novak offers a breakdown of game genres and goals, giving aspiring developers a better taste of how games fit into a number of established archetypes.] Key Chapter Questions - What are some non-entertainment goals associated with game development? - What are the characteristics associated with popular game genres? - Which goals and genres work particularly well together?
game club - Kotaku
InteractiveStory.net
Adventure Gamers
goodbyeworld.net
The Night Journey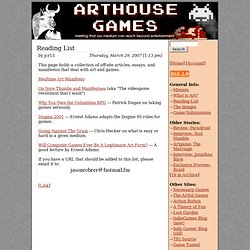 Arthouse Games
This page holds a collection of off-site articles, essays, and manifestos that deal with art and games. Realtime Art Manifesto On Sore Thumbs and Manifestoes (aka "The videogame revolution that I want")
Jay is Games - Indie Games, Browser Games and Casual Game reviews, walkthroughs, room escape games, point and click games, puzzle games and more!
This Gaymer's Story
SExpand Because it needs to be said, I only speak for myself. Trigger warnings for suicidal thoughts, sexual violence, homophobia, child abuse, life. I made the mistake. The mistake I warn others of not doing. I read the comments.
The Gay Gamer
Brandon Boyer – Offworld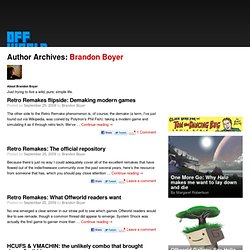 About Brandon Boyer Just trying to live a wild, pure, simple life. Retro Remakes flipside: Demaking modern games The other side to the Retro Remake phenomenon is, of course, the demake (a term, I've just found out via Wikipedia, was coined by Polytron's Phil Fish): taking a modern game and simulating it as if through retro tech. We've … Continue reading
Pokédrag | Vorpal Bunny Ranch
I'm Tired of Being a "Woman in Games." I'm a Person.
SExpand Sexism in games remains an unsolved problem, it's clear. Some of you will be nodding along, and some of you will hear the s-word and roll your eyes and go, "oh, this again?" You guys can piss off-–go click on some new screenshots or a trailer consisting of a release date slowly fading into view. You're hopeless. Sorry, do I sound a little hostile?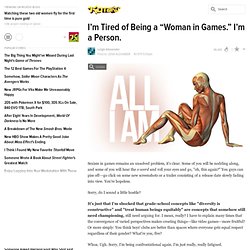 Sony Announces PlayStation Now, a Cloud-Based Streaming Service for Videogames By Maddy Myers at 2:53 PM on January 9, 2014 Sony has recently announced a new service that will allow people to rent and stream digital copies of PlayStation games--even if they don't own any Sony consoles. read more
Games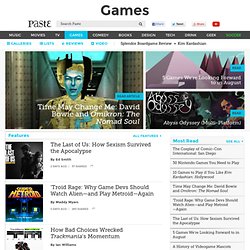 Critical Distance
Choice of the Deathless Battle demons and undead attorneys, and win souls to pay back your student loans! At the elite demonic-law firm of Varkath Nebuchadnezzar Stone, you'll depose a fallen god, find romance, and maybe even make partner, if you don't lose your own soul first. Showdown at Willow Creek Saddle up and defend the town of Willow Creek from nefarious outlaws and city slickers!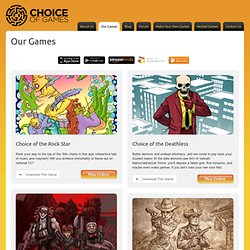 Our Games Archive - Choice of Games