Games
Instagram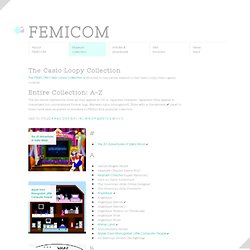 Museum Collection | FEMICOM, the feminine computer museum
Museum Collection The list below represents titles as they appear in US or Japanese releases. Japanese titles appear in romanized but untranslated format ( e.g., Wanwan Aijou Monogatari ) as well as in Japanese script ( e.g., わんわん愛情物語 ). Titles that appear in the FEMICOM physical collection are indicated by a cartridge icon ( Alice no Paint Adventure The American Girls: Dress Designer The American Girls Premiere Angelique (アンジェリーク) Angelique Special (アンジェリーク Special) Angelique Special 2 (アンジェリーク Special 2) Angelique Tenkuu no Chinkonka (アンジェリーク 天空の鎮魂歌) Angelique Trois (アンジェリーク トロワ) Angelique Etoile (アンジェリーク エトワール) Anime Land (あにめらんど)
This post is just getting less and less timely. On the other hand, this question is timeless. "Birth of an Icon" - found at FreakingNews.com That said, the event which sparked this post happened almost a year ago now. So after reading this new post by Mark Danger Chen, which deeply abuts the themes of postmodernity which this here post is really about, I figured I'd better just hurry up and get this thing out the door today. While I wasn't able to make GDC last year, like virtually everyone else (who works in or around games) I was promptly informed by colleagues and blog posts about Heather Chaplin's now infamous rant regarding perpetual adolescence in games (or really perpetual adolescents in the games industry).
weblog - That old question again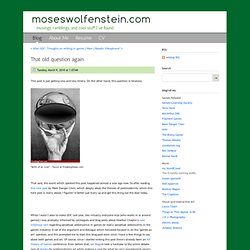 SOS_SLAVES Changing the trafficking game
www.envplan.com/epa/fulltext/a38/a37205.pdf
Game Critics Awards
Publications - adrienne shaw
Welcome to indiePub Games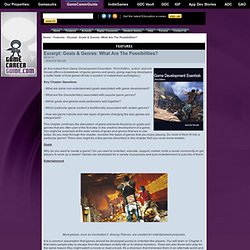 Excerpt: Goals & Genres: What Are The Possibilities? - GameCareerGuide.com
[In this extract from Game Development Essentials: Third Edition, author Jeannie Novak offers a breakdown of game genres and goals, giving aspiring developers a better taste of how games fit into a number of established archetypes.] Key Chapter Questions - What are some non-entertainment goals associated with game development? - What are the characteristics associated with popular game genres ? - Which goals and genres work particularly well together?
Aquaria - Bit Blot
An Underwater Fantasy World to Explore massive ocean world, teeming with life and filled with ancient secrets. Join Naija, a lone underwater dweller in search of her family, as she explores the depths of Aquaria. She'll travel from hidden caves, shrouded in darkness, to beautiful, sunlit oases, all lovingly handcrafted by its two creators. Naija's story, narrated fully with voice overs, will become yours, as you join her on this magnificent adventure. Magic and Combat at a Mouse-Click
game club - Kotaku
Adventure Gamers
goodbyeworld.net
The Night Journey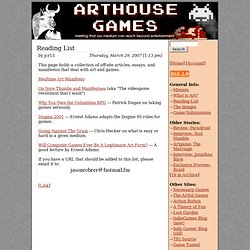 Arthouse Games
This page holds a collection of off-site articles, essays, and manifestos that deal with art and games. Realtime Art Manifesto On Sore Thumbs and Manifestoes (aka "The videogame revolution that I want")
This Gaymer's Story
The Gay Gamer
Brandon Boyer – Offworld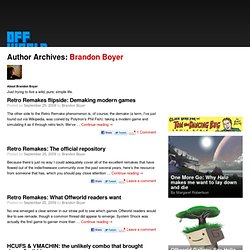 About Brandon Boyer Just trying to live a wild, pure, simple life. Retro Remakes flipside: Demaking modern games The other side to the Retro Remake phenomenon is, of course, the demake (a term, I've just found out via Wikipedia, was coined by Polytron's Phil Fish): taking a modern game and simulating it as if through retro tech. We've … Continue reading
Pokédrag | Vorpal Bunny Ranch
I'm Tired of Being a "Woman in Games." I'm a Person.
Wait, wait. So, society in general pushed gamers into a corner and called them weirdos and nerds and geeks and made fun of them. And now you think female gamers have it as bad just because they're gamers? I'm sorry, but no. You weren't beaten in school for liking games. You didn't have your things constantly stolen because you were a geek and a loser.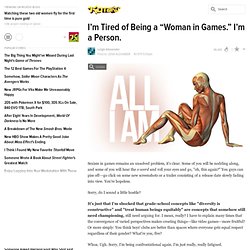 Paste Goes to PAX East: Outlast By J.P. Grant at 4:30 PM on March 29, 2013
Games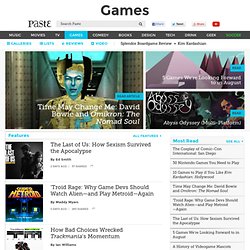 Critical Distance
Choice of Kung Fu Become the greatest fighter the world has ever known, harnessing the power of chi to manipulate the energies of the universe. Defeat rivals, find romance, and rise to become the Imperial Champion. Win the right to question the immortal Dragon Sage, who speaks just once every hundred years! To the City of the Clouds