twitter
Get flash to fully experience Pearltrees
Twitter has been evolving over the last couple of years, going from a brilliant social tool to a media platform that is turning into a pay to play solution just like Facebook. Brands can still use it for customer service, brand building and to engage with their customers, but they are having to be increasingly creative to do so. This week, we look at five of the best campaigns run by brands that had creativity at their core. Ben & Jerry's – Fair Tweets Ben and Jerry's wanted to promote Fair Trade Day so it built an app that allowed users to post tweets.
Friday evening, Tunisian President Zine el-Abidine Ben Ali boarded a jet for Malta, leaving his prime minister to face streets filled with protesters demanding a change of government in the North African country. The protests began weeks earlier in the central city of Sidi Bouzid, sparked by the suicide of Mohamed Bouazizi, an unemployed university graduate whose informal vegetable stall was shuttered by the police. His despair exemplified the frustration that many Tunisians felt with their contracting economy, high levels of unemployment and inequality, censored media and Internet, and widespread corruption.
News from Tunisia looks good. For better or worse, many of us will be pondering the role that the Internet played or didn't play in the events of the Jasmine Revolution. Below are some preliminary reflections, which, if you know me well, are likely to change by the end of next week! One thing to keep in mind is that revolutions will continue and Twitter won't go away anytime soon.
How much information do Twitters users disclose about themselves?
WARNING: From March 5th, 2013, Twitter will progressively drop support for RSS feeds, breaking the tools below (except the AutoTweet plugin, which I have updated to the new API). I will try to find a solution, but no guarantees, I'm afraid… Ever wanted to make presentations a more interactive, Web 2.0 experience?
About Susana Zaragoza I am a Spanish professional within the cultural field. since 2003, I have been involved in several cultural cooperation projects related to new media in Brazil, Spain and Uruguay.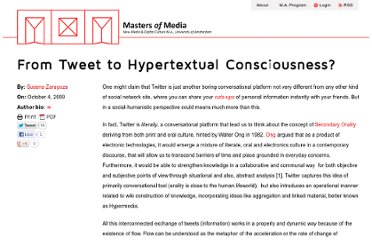 Then he earned $200 by telling his fans where they could buy M&M's with customized faces, messages and colors. Mr. Chow is among a growing group of celebrities, bloggers and regular Internet users who are allowing advertisers to send commercial messages to their personal contacts on social networks.
Is Generation Y still watching TV news? Will they be watching in 10 years?
If you're responsible for the direction of the online strategies for your company or organization, you've probably been hearing buzz about Twitter, a next-generation instant messaging tool.
La vague des micro Microlearning , micromédias , microblogs, microcélébrités, microédition , microformats … Le début de l'année 2008 est marqué par l'ascension du «micro » acoquiné à toutes les sauces. Alors que le macro est forcément impersonnel (vécu comme un tourbillon de la mondialisation), l'individu Internet noyé parmi des millions d'utilisateurs, le micro ne personnalise pas, il construit un univers d'un à un autre, d'un à d'autres, dans une relation « one-to-many » plongée dans une quête de sens et à la recherche d'un entre-soi formalisé.