Brilliant Design
Bjarke Ingels: Hedonistic sustainability. Are streets more walkable if the sidewalks are removed? For most of us, when we're walking in the city, the safest place to be is on the pavement or sidewalk.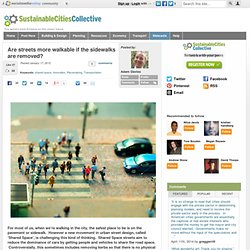 However a new movement in urban street design, called 'Shared Space', is challenging this kind of thinking. Shared Space streets aim to reduce the dominance of cars by getting people and vehicles to share the road space. Yaniv Pardo Unveils Twisting Geothermal-Powered Tower for Netanya, Israel Netanya City Hall by Yaniv Pardo – Inhabitat - Green Design Will Save the World.
Don't feel bad if you can't point to the city of Netanya on a map of Israel, since many locals have the same trouble.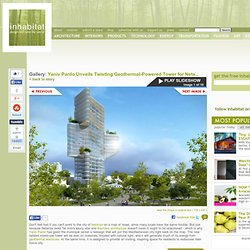 But just because Netanya lacks Tel Aviv's saucy vibe and Bauhaus architecture doesn't mean it ought to be abandoned - which is why Yaniv Pardo has given the municipal center a redesign that will put this Mediterranean city right back on the map. The new twisted mixed-use tower will be lean on materials, flooded with natural light, and it will generate much of its energy from geothermal resources. Tetra Shed: A Modern Modular Office for the Garden! A stunning modern design by David Ajasa-Adekunle, the Tetra Shed is sweet solution for those looking for extra office space.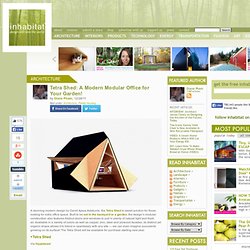 Built to be set in the backyard or a garden, the design's modular construction also features foldout doors and windows to pull in plenty of natural light and fresh air. Available in a variety of colors as well as copper, zinc, steel and plywood facades, its distinct yet organic shape allows it to blend in seamlessly with any site — we can even imagine succulents growing on its surface! The Tetra Shed will be available for purchase starting next year. +Tetra Shed Via Hypebeast. 10 Best Ad Campaigns "Life's too short for the wrong job". Fascinating Lamps by Calabarte | Pondly. Article by Lily I'm a French full time student and a part-time blogger.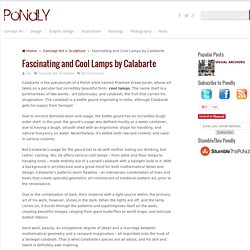 I like Pondly because it allows me to share what I find on the Internet, for everyone to see. Calabarte is an artist from Poland.
---