Landscape
Triangular Landscape
Chelsea flower show. Gardens: Nicole de Vesian. The Outdoor Stylist. Water Feature. Ira Keller Fountain Park – Landscape Voice. Designers: Lawrence Halprin, Angela Danadjieva | City: Portland, OR | Project Type: fountain, public plaza, waterfall Date Visited: 12.12.12 Locations: SW Clay St & SW 3rd Ave, Portland, OR, 97201Size: 0.92-acreCostL $12 millionCompletion Date: 1970 Designed in 1970, the Ira Keller Fountain Park was the signature landscape architecture work that catapulted Lawrence Halprin to the forefront of international attention.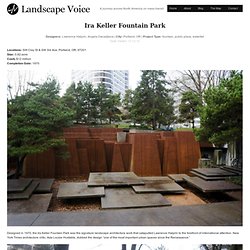 New York Times architecture critic, Ada Louise Huxtable, dubbed the design "one of the most important urban spaces since the Renaissance." Banyoles landscape architecture mias square 04. Drainage. 08-Blooming-Citycenter-Nieuwegein-by-bplusb. St-Flour by Insitu Architectes Paysagistes. 07 NewRoad Landscape project gehl architects. Vetschpartner Landscape Architects. The Dolder Grand Hotel by Vetschpartner Landscape Architects. Designers: Vetschpartner Landschaftsarchitekten AG, Zurich Foster + Partners, London Itten + Brechbühl AG, Zurich Location: Zurich, Switzerland Commissioned by Dolder Hotel AG Area: 17 500 m2 Design: 2003-2006 Implementation: 2006-2008 This unique hotel, situated between the pulsating city and invigorating nature, calls for a sensitive approach to the open space areas.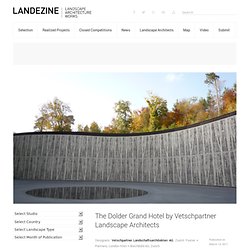 Architecture and landscape merge as an ensemble. The Zürichhorn Playground By Vetschpartner Landscape Architects. Landscape Architecture: Vetschpartner Landschaftsarchitekten AG, Zurich Location: Zurich, Switzerland Planner: APT Ingenieure GmbH , Zurich Commissioned by: City of Zurich (Grün Stadt Zürich) Area 4 700 m2 Period of design 2005 Implementation period 2008 The newly designed playground classified as a peripheral space in the existing structure of the Zurichhorn.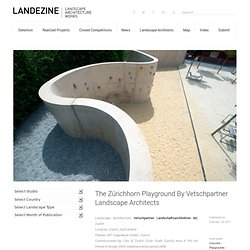 The result is an atmospheric place for children and adults, where the senses are stimulated through play. The playground is framed by a fine meshed fence, which continues to Bellerivestreet into a bamboo grove. To the Road side increases a varied, curved wall, as noise abatement measure, the quality of stay. It is equipped with various climbing. The Sulzer-Areal by Vetschpartner Landscape Architecture.
Landscape Architecture: Vetschpartner Landschaftsarchitekten AG, Zurich Location: Winterthur, Switzerland Design: 2000-2003 Construction: 2003-2005 Area: 18 500 m2 Text by authors of the project The formerly self-contained industrial park opens to the newly occupied district of Winterthur with housing, culture, service and commercial sectors.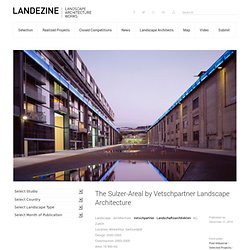 The Sulzerareal is a clear-cut in terms of area, urbanistic element that is moving closer together on different levels, the old town, transport and recreation area and provides the nature of the atmospheric phenomenon in the differentiation to the rest of town. A higher-level strategy intended to change the design freedom. Surface Deep by asensio_mah. August 2, 2011 / Filed under: Canada / Green Walls / Roofs / Installations / See all projects by: asensio_mah / 10,036 / Landscape Architecture: asensio_mah (Leire Asensio Villoria, David Syn Chee Mah) in collaboration with students at the Harvard Graduate School of Design Collaborators Structure: Adams Kara Taylor Engineering www.akt-uk.com Moss: Bryophyta Technologies (Suzanne Campeau) www.bryophyta.ca Location: Metis International Garden Festival in Quebec, Canada Text&photos: asensio_mah, Martin Bond Students: Somkiet Chokvijtkul (MLA2'12), Daekwon Park(M'Des'12) , Benjamin Winters(MLA1'11), Yuan Zhan(M'Arch2'13), Fred Chung(M'Arch2'11), Troy Vaughn(MLA2'12), Lisl Kotheimer(MLA2'12), Day Jimenez(M'Arch2'11), Mariela Alvarez(M'Arch2'11), Benjamin Tew(M'Des'11), Victor Perezamado(M'Arch1'13) www.gsd.harvard.edu Surface Deep is a new garden recently installed within the entry sequence for the visitors to the Reford Gardens' Metis International Garden Festival in Quebec, Canada.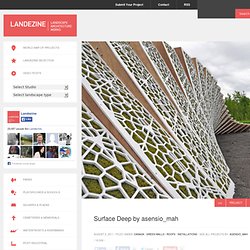 National Emergency Services Memorial by Aspect Studios. May 16, 2011 / Filed under: Australia / Cemeteries / Concrete / See all projects by: ASPECT Studios / 8,246 / Landscape Architecture: Aspect Studios Location: Canberra, ACT, Australia Client: National Emergency Service Personnel Steering Committee & National Capital Authority Photographer: Ben Wrigley Budget: AUS $1 million Consultants/Team: ASPECT Studios – Landscape Architecture (lead), DCG Design, Charles Anderson – Artist, SA Precast, MB Lighting Design Scope: Wining national competition entry, design documentation & construction advice Area: 8000 m² Completion date: 2004 The National Emergency Services Memorial honors the thousands of men and women who serve and have served in Australia's emergency services.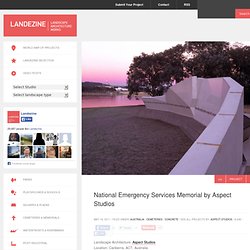 The memorial provides a place to reflect on those who have fallen or perished while carrying out their duties for the benefit of the wider Australian community. The spirit of the emergency services is embodied in this single, powerful gesture of the memorial. Screen/Wall. Cap-Rouge Memory Wall by Plania Landscape Architecture. Project title: Cap-Rouge Memory Wall Landscape Architecture: Plania Project Team: André Arata, Gerald Pau Location: Cap-Rouge, Quebec, Canada Completion date: 2012 Client: Commission de la capitale nationale du Québec Project Type: Retaining wall and cliff renaturalization Photographers: Denis Lemelin; Richard Fiset; CCNQ, Monica Bittencourt; CCNQ, Pierre Joosten; Martin Moisan; Gérald Pau.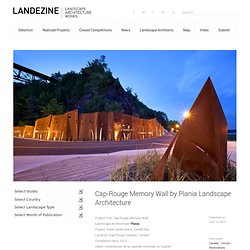 After the partial collapse of the Cap-Rouge cliff in 2003, the City of Quebec completed a temporary project to protect the area adjacent to the chemin de la Plage-Jacques Cartier—the boulevard along Jacques Cartier beach. In 2005, the archaeological remains of North America's first French colony (1541-1543) were discovered on the site, prompting the site owner, the CCNQ (National Capital commission of Quebec), to open an archaeological dig on top of the cliff. 06_this-is-tsp_c-Dreiseitl. 20_great-place-to-be_c-Dreiseitl. 15_music_c-Dreiseitl. Flex Fence by Mikyoung Kim. 03-Blooming-Citycenter-Nieuwegein-by-bplusb. Blocs 77: Green Camouflage by Shma Company Limited. Architect & Landscape Architect: Shma Company Limited Project Team: Director – Yossapon Boonsom, Associate – Kantaya Kiatfuengfoo Client& Developer: Sansiri PCL.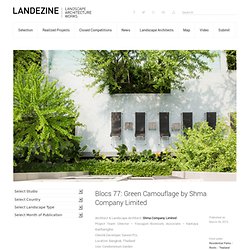 Location: Bangkok, Thailand Use: Condominium Garden Site Area: 5,244 sq. m Building Scale: 28 Storey Building. Design Year: 2008 Period of Construction: 2010-2011 Like many other condominium projects, this project is intended to create a good environment for the residents. Facing with many constraints make it difficult for landscape architect to achieve the developer's expectation, since the location of the site that is in the chaotic and polluted urban area in Bangkok, the limited budget of the project, and the strict regulation of green area requirement. Blocs-77-Green-Camouflage-by-Shma-Company-Limited-03. Redefinition of the Closing of Yrizar Palace Garden by VAUMM Architects.
August 8, 2011 / Filed under: Fences / Gardens / Restorations / Spain / See all projects by: VAUMM / 12,355 / Architects: VAUMM architects Construction: GOITU Eraikuntzak S.A.
Client/ Production: City hall of BERGARA Location: Bergara, Spain Photography: Aitor Ortiz Execution date: FEBRUARY 2011 – MAY 2011 MetalWork: Talleres Melo S.A. Qinhuangdao Botanic Garden by Turenscape. Name of Project: Qinhuangdao Botanic Garden: Landscape as settings Location: Qinuangdao City, Hebei, China Project Type: Park Size: 26.5 Hectares Landscape Architect: Turenscape (Beijing Turen Design Institute) Principal designer: Kongjian Yu Date of Completion: July, 2009 1 Project Statement This project recovers the meaning of landscape as "scenes" or "settings" that allow the objects (plants) to be displayed and visitors to play.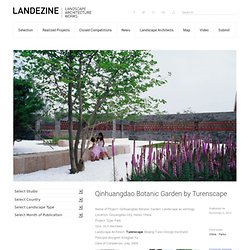 Qinhuangdao Botanic garden is parks that fulfill multiple functions as a tourism attraction, an environmental and botanical education facility, and as an open space for daily use of the local communities. 2 Project Narrative The project is located at the Qinhuangdao City, a tourism city at the east coast of Hebei Province of North China's. Garden Serge Gainsbourg by Agence Territoires. October 5, 2011 / Filed under: France / Parks / Roofs / See all projects by: Agence Territoires / 10,155 / Landscape Architecture: Agence Territoires Location: Porte des Lilas, Paris, France Commissioned by: Semavip (Mixed Investment Company of Paris) Area: 19th and 20th arrondissement of Paris, France Design: 2005-2007 Implementation: 2008-2011 Text&photos: Agence Territoires Acquiring new surfaces by covering the ring-highway is a unique chance to bring Paris back into contact with its suburbs.
However, this is not simply a topic of filling up the space, of closing the gap but much more of opening up an old frontier. Screen/Wall. Kardinaal_Mercier_Square-by-OMGEVING_landscape_architecture_urbanism-11. Dynamic Garden by MADE associati. August 26, 2013 / Filed under: Cor-ten / Gardens / Italy / See all projects by: MADE associati / 18,372 / Landscape Architecture: MADE associati _ Michela De Poli, Adriano Marangon Location: Treviso / Italy Completed: 2013 Client: private Vicolo Pescatori, 2 31100 Treviso _ Italy Coll: Francesco Faggian Structural design: Sergio Linguanotto Plumbing consultant: Andrea Mori Photo: Adriano Marangon, Michela De Poli, Corrado Piccoli The design project for this small garden (two areas of approx. 800 sq.mt.) responds to the need for the construction of a car port, a storeroom, and to redesign the lawn space in the two adjoining areas of the house, the building of which dates back to the early18th century.
The space was reordered across simple lines: the large white square defines the lawn space with an Italian style garden design, the material line delimits the car port and storeroom space, connecting to the house via the paved axis. 2inkStudio_MLK-Gateway_5. Steps.
The Campus Park at Umeå University by Thorbjörn Andersson with Sweco Architects. December 3, 2013 / Filed under: Parks / Sweden / Water features / See all projects by: Sweco Architects / Thorbjörn Andersson / 21,394 / Project name: University Campus Park Umeå Landscape architect: Thorbjörn Andersson with Sweco architects Team: Staffan Sundström, Emma Pettersson, Mikael Johansson. Consultants: Black light design Client: Akademiska Hus Area: 23 000 kvm Opened: 2011. Armentières Square by Atelier des paysages Bruel Delmar 12. BALMORI. 06-Rehwaldt-Landscape-Architecture_wide_steps.
Sculptures. Home - RobMulholland. Olympic Sculpture Park by Charles Anderson | Atelier ps. Narrow Space. Market Lane | London Ontario | Hapa Collaborative. High Line by Corner Field Operations. World Landscape Architecture « World Landscape Architecture – landscape architecture webzine. Landscape Architects Network.
Landezine | Landscape Architecture Works. Landscape in Japan. LaLaport Toyosu by EARTHSCAPE. Fuji Kindergarten by Tezuka Architects. Government Building Plaza by Earthscape. NSE Kitakyushu Technology Center by PLATdesign. Saiki Peace Memorial Park by Earthscape. French Embassy Gardens in Tokyo by Sempervirens Landscapers. Shima Kitchen by Ryo Abe. POTEMKIN – Post Industrial Meditation Park by Casagrande & Rintala.
---