Réflexions
The Misconception: You celebrate diversity and respect others' points of view. The Truth: You are driven to create and form groups and then believe others are wrong just because they are others. Source: "Lord of the Flies," 1963, Two Arts Ltd.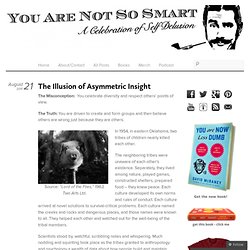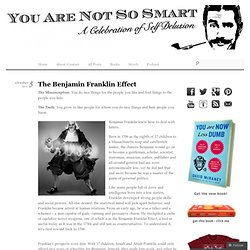 The Misconception: You do nice things for the people you like and bad things to the people you hate. The Truth: You grow to like people for whom you do nice things and hate people you harm. Benjamin Franklin knew how to deal with haters. Born in 1706 as the eighth of 17 children to a Massachusetts soap and candlestick maker, the chances Benjamin would go on to become a gentleman, scholar, scientist, statesman, musician, author, publisher and all-around general bad-ass were astronomically low, yet he did just that and more because he was a master of the game of personal politics. Like many people full of drive and intelligence born into a low station, Franklin developed strong people skills and social powers. All else denied, the analytical mind will pick apart behavior, and Franklin became adroit at human relations.
Violaine Girard a passé le premier tour dans un bureau de vote d'une commune située à la périphérie rurale d'une grande agglomération du sud-est de la France, ancrée à droite, qu'elle étudie depuis presque dix ans. Maîtresse de conférences en sociologie à l'université de Rouen, elle précise les dynamiques du vote FN des classes populaires dans ce territoire rural en recomposition. Sa monographie montre que les électeurs de Marine Le Pen ne peuvent être résumés à de simples «oubliés» du système. Pourquoi étudier ce territoire périurbain ? C'est intéressant parce que ce territoire rural, transformé par de grands projets d'aménagements, cumule des caractéristiques des zones périurbaines dont on parle beaucoup en ce moment. Ce territoire a connu une urbanisation diffuse, avec la construction de maisons individuelles par des ménages des classes populaires.
«Les électeurs FN ne sont pas que des ménages modestes victimes de la mondialisation»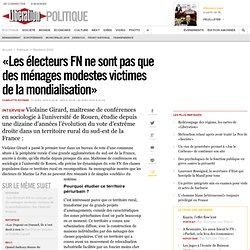 InternetActu | • Mis à jour le | Par Hubert Guillaud La procrastination est la tendance (plus cognitive que pathologique comme nous allons le voir) à remettre systématiquement les choses au lendemain. Mais, rappelle le journaliste David McRaney sur son blog, la procrastination correspond à une idée reçue qui affirme qu'on est paresseux et qu'on gère mal son temps, alors qu'à la vérité, elle est alimentée par notre faiblesse à gérer nos impulsions.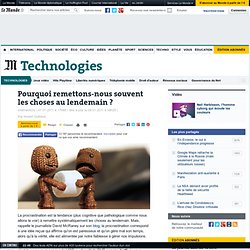 Less drama, more action Trop penser nuit Par Romain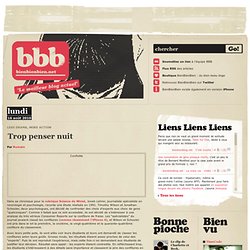 Trop penser nuit
La banlieue, objet apocalyptique de nos fantasmes #1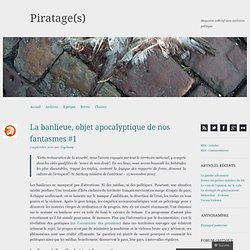 "Cette restauration de la sécurité, nous l'avons engagée sur tout le territoire national, y compris dans les cités qualifiées de "zones de non-droit". En ces lieux, nous avons bousculé les habitudes les plus discutables, traqué les trafics, contesté la logique des rapports de force, dénoncé la culture de l'irrespect"- N. Sarkozy ministre de l'intérieur – 15 novembre 2005 Les banlieues ne manquent pas d'attentions. Ni des médias, ni des politiques.
Théoricien des médias sociaux, Nathan Jurgenson est étudiant-chercheur en sociologie à l'université du Maryland. Il s'est fait remarquer en 2011 en publiant sur le Net un essai brillant sur la «photo faux vintage» ( traduction en français ici ) et la «nostalgie du présent» qu'elle permet. Le rachat d'Instagram et la nouvelles présentation des pages facebook sous la forme de Journal relèvent-elles de la même logique ?
« On nous incite à regarder notre présent comme un futur passé »