Autour de la culture tv ciné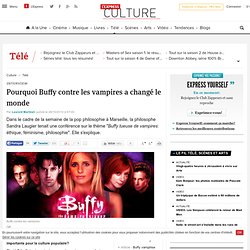 En quoi la série Buffy contre les vampires (1997-2003) est-elle importante pour la culture populaire? C'est LE feuilleton important : non seulement parce que c'est une série vraiment culte, avec des millions de spectateurs et des milliers de fans, même 7 ans après la fin de la série, et qu'elle nourrit maintenant l'imaginaire de films et de nouvelles séries (True Blood), de romans, mais aussi parce qu'elle est immergée dans la culture populaire, renvoyant à la musique pop, à la BD, aux mythologies populaires sur les vampires, à la comédie ado high school, à la comédie romantique, au slasher movie (film d'horreur cheap)... C'est une sorte d'encyclopédie.
Pourquoi Buffy contre les vampires a changé le monde
Combien coûtent les maisons où vivent les héros de séries?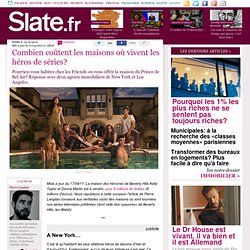 Mise à jour du 17/04/11: La maison des héroïnes de Beverly Hills Kelly Taylor et Donna Martin est à vendre, pour 9 millions de dollars (6 millions d'euros). Nous republions à cette occasion l'article de Pierre Langlais consacré aux véritables coûts des maisons où sont tournées nos séries télévisées préférées (dont celle des «pauvres» de Beverly Hills, les Walsh). publicité A New York… C'est là qu'habitent les plus célèbres héros de sitcoms d'hier et d'aujourd'hui. Evidemment, aucun de leurs intérieurs n'est réel.
A l'occasion de la sortie au cinéma de la première partie du dernier Harry Potter, nécrologie fictionnelle du plus grand héros de ce début de siècle.*** La Gazette du sorcier, 24 novembre 2060, par Rita Skeeter junior publicité «Il est mort!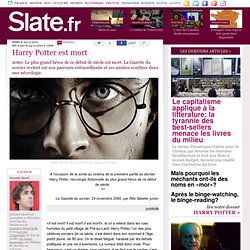 Harry Potter est mort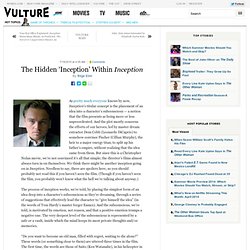 The Hidden 'Inception' Within Inception
As pretty much everyone knows by now, Inception's titular concept is the placement of an idea into a character's subconscious — a notion that the film presents as being more or less unprecedented. And the plot mostly concerns the efforts of our heroes, led by master dream extractor Dom Cobb (Leonardo DiCaprio) to somehow convince Fischer (Cillian Murphy), the heir to a major energy titan, to split up his father's empire, without realizing that the idea came from them. But since this is a Christopher Nolan movie, we're not convinced it's all that simple; the director's films almost always turn in on themselves. We think there might be another inception going on in Inception. Needless to say, there are spoilers here, so you should probably not read this if you haven't seen the film.