Littlemissfickle
Jordana Bertolazi
Buddhism. 80 Healthy Recipe Substitutions. Here at Greatist, we're always looking for ways to make our favorite foods healthier without sacrificing flavor.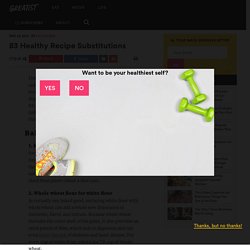 So we compiled a list of our best substitutions and discovered some new ones along the way. Below are our 83 (!) Top picks, guaranteed to make that next meal a delicious, healthier hit. Exercise. Make up for keeps. Musique. Books to read. DIY.
Recipes
Amazing recipes for keeps. Recipes to try.
---