Reading
Project Gutenberg - free ebooks. 300 Free eBooks: Download Great Classics for Free. Download 600 free eBooks to your Kindle, iPad/iPhone, computer, smart phone or ereader.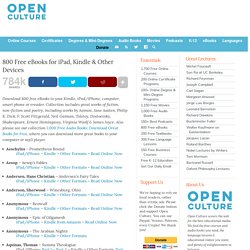 Collection includes great works of fiction, non-fiction and poetry, including works by Asimov, Jane Austen, Philip K. Dick, F. BestScienceFictionStories.com.
Online Library - download and read ebooks for free. Free Audio Books - Download an audio book in mp3 or iPod format today! Free online speed reading software | Spreeder.com. Spreeder is a free service provided by 7-Speed-ReadingTM.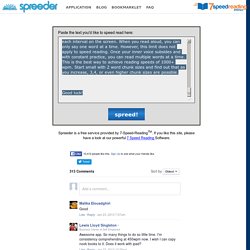 If you like this site, please have a look at our powerful 7 Speed Reading Software. Spreeder.com is a free online speed reading software designed to improve your reading speed and comprehension. Spreeding 1 word @ 300 wpm.
---