Achat et matériel
Free harmonica tabs. Here we have included some free harp tabs to help you get started. We have concentrated these harmonica lessons on riff playing to begin with and have decided to try to teach you some of the worlds most famous,fundamental and simple blues harmonica licks and riffs to help build your confidence and give you the belief that you are going to be able to master this simple yet deceptively difficult to learn instrument. If you have access to Skype or i-pad video calling and would like to arrange a free and live face to face harmonica lesson with the harmonica company,then please call us today on 075012 77590 or click here for more details. We will be happy to help you learn these riffs and more whether you are a beginner just starting out or an intermediate player looking to improve your technique, Allow the harmonica company to work with you to get more enjoyment from your harmonica.
Free harmonica lessons from the harmonica company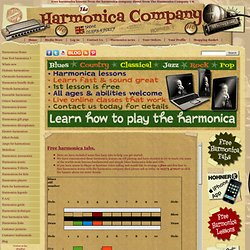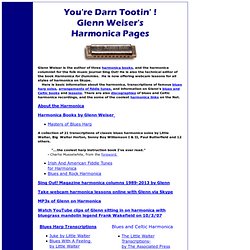 Glenn Weiser is the author of three harmonica books , and the harmonica columnist for the folk music journal Sing Out! He is also the technical editor of the book Harmonica for Dummies . Here is basic information about the harmonica, transcriptions of famous blues harp solos , arrangements of fiddle tunes, and information on Glenn's blues and Celtic books and lessons . There are also discographies of blues and Celtic harmonica recordings, and the some of the coolest harmonica links on the Net. About the Harmonica Harmonica Books by Glenn Weiser
Harmonica and Blues Harp Page by Glenn Weiser
The Diatonic Harmonica Reference
Panier d´achat
Hal Leonard Chicago Blues Play-Along Vol.1 - play 8 songs with a professional band. Arranged for Bb, Eb, bass-clef and C instruments. Includes play-along CD. Each song on the CD includes two tracks: a full stereo mix and a split track mix with removable guitar, bass, piano and harmonica parts.
HAL LEONARD CHICAGO BLUES PLAY-ALONG VOL.1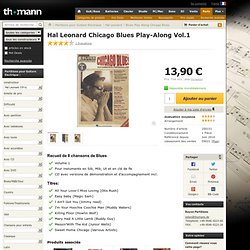 ART TUBE MP
Apprendre l'harmonica
Micros pour harmonicas
Micros chant dynamiques
Courbe de réponse (Frequency Response) : La courbe de réponse détermine dans quelle mesure une fréquence donnée sera transmise du micro au système d'amplification. Souvent elles sont dessinées et ressemblent un peu à des courbes de gauss (avec un bosse au mileu). Pour être honnête, la tête de la courbe ne vous permet absolument pas de savoir que genre de son le micro produit, à moins d'être un expert en électronique du son.
Descriptif des Micros