Tech Articles
Seven Ways for Small Biz To Generate Revenue With Social Media RIGHT NOW | The Home Of Peter Shankman. SEVEN WAYS FOR SMALL BIZ TO GENERATE REVENUE WITH SOCIAL MEDIA RIGHT NOW2 years ago When I speak at conferences catering to small businesses, I usually show up an hour before the conference starts.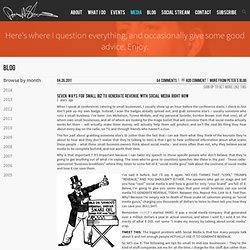 I check in, but don't pick up my own badge. Keepsy Taps Instagram For Fast, Easy, Awesome Photo Books. People love photo albums, but they hate making them.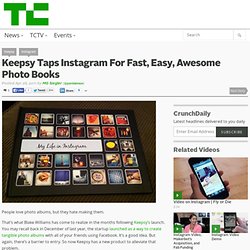 That's what Blake Williams has come to realize in the months following Keepsy's launch. You may recall back in December of last year, the startup launched as a way to create tangible photo albums with all of your friends using Facebook. It's a good idea. Startup America Partnership Promotes Entrepreneurship. If you watched his Town Hall meeting last week on Facebook Live, you know that President Obama is supporting entrepreneurs and small businesses in a very big way with his Startup America campaign.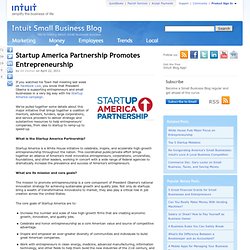 We've pulled together some details about this major initiative that brings together a coalition of mentors, advisors, funders, large corporations, and service providers to deliver strategic and substantive resources to help entrepreneurs' companies, from idea to startup to ramp-up to speed-up. What is the Startup America Partnership? Startup America is a White House initiative to celebrate, inspire, and accelerate high-growth entrepreneurship throughout the nation. Politics in Social Media Roundup: Obama's Online Town Hall, Facebook Lobbyists, Viral Video. There's still an entire year and seven months until the U.S. presidential election on November 6, 2012, but social media has already played a huge role in the burgeoning race.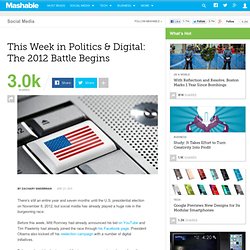 Before this week, Mitt Romney had already announced his bid on YouTube and Tim Pawlenty had already joined the race through his Facebook page. President Obama also kicked off his reelection campaign with a number of digital initiatives. Below, we've picked out some of the top announcements and news from the past week or so to keep you in the know, something we'll be doing weekly on Mashable.
President Obama Visits Facebook. Stop Dating Strangers: LinkedIn Meets OkCupid. The Spark of Genius Series highlights a unique feature of startups and is made possible by Microsoft BizSpark.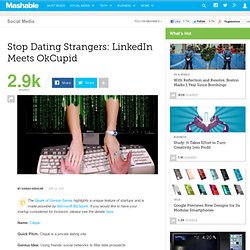 If you would like to have your startup considered for inclusion, please see the details here. Name: Clique Quick Pitch: Clique is a private dating site. Genius Idea: Using friends' social networks to filter date prospects. How Twitter Can Save $50 Million: Forget TweetDeck, And Go Freemium On Its API. Editor's note: In this guest post, serial entrepreneur Nova Spivack gives Twitter some suggestions for how to make money.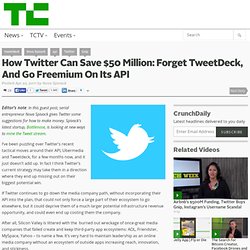 Spivack's latest startup, Bottlenose, is looking at new ways to mine the Tweet stream. I've been puzzling over Twitter's recent tactical moves around their API, Ubermedia and Tweetdeck, for a few months now, and it just doesn't add up. ProtectYourVision Helps You Take Screen Breaks to Avoid Eye Strain. StartupL.ist launches, for entrepreneurs and early adopters. For the past few months, I've been following the work of three entrepreneurs Eric Ingram, his wife Melissa Ingram and Nick Frost on the Twitters.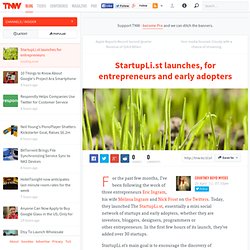 Today, they launched The StartupLi.st, essentially a mini social network of startups and early adopters, whether they are investors, bloggers, designers, programmers or other entrepreneurs. In the first few hours of its launch, they've added over 30 startups. StartupLi.st's main goal is to encourage the discovery of startups by early adopter types. Fashion Technology. Rapportive Connects Gmail Inbox & Address Book.
Gmail and Google Contacts users no longer need to exit an email message to look up the sender's contact information.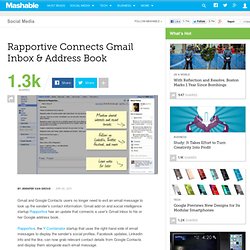 Gmail add-on and social intelligence startup Rapportive has an update that connects a user's Gmail inbox to his or her Google address book. Rapportive, the Y Combinator startup that uses the right-hand side of email messages to display the sender's social profiles, Facebook updates, LinkedIn info and the like, can now grab relevant contact details from Google Contacts and display them alongside each email message.
"Any photos, phone numbers and occupations in your Google Contacts will be seamlessly integrated into your Rapportive sidebar," Rapportive CEO Rahul Vohra writes of the integration. Set Up an Automated, Bulletproof File Back Up Solution. How Groupon Uses the Cloud to Scale its Business. The Scaling Startups Series is supported by Brother International.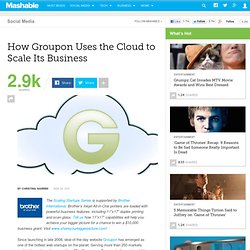 Brother's Inkjet All-in-One printers are loaded with powerful business features, including 11"x17" duplex printing and scan glass. Tell us how 11"x17" capabilities will help you achieve your bigger picture for a chance to win a $10,000 business grant. Visit www.shareyourbiggerpicture.com! Since launching in late 2008, deal-of-the-day website Groupon has emerged as one of the hottest web startups on the planet. Spring Cleaning - Gadgets You Can Get Rid Of. And so we no longer need to accumulate products.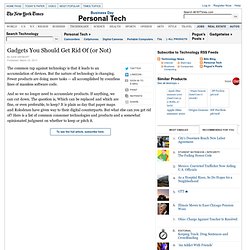 If anything, we can cut down. The question is, Which can be replaced and which are fine, or even preferable, to keep? It is plain as day that paper maps and Rolodexes have given way to their digital counterparts. How to Automatically Download TV Shows as Soon as They've Aired (or Turn Your PC into a TiVo) What's in Your Taskbar/Dock? 5 free ways to back up your Gmail online and offline.
Here at TNW, we are huge Gmail fans for several reasons– it's fast, it offers a generous amount of storage, and it's free. As amazing as cloud technology is, it is still prone to hacks and crashes, you just never know. That's why we can't stress enough why it is absolutely important to back up your mail and attachments in Gmail and in this article, we'll be sharing 5 quick, easy and handy ways how to do it both online and offline.
How to back up your Gmail offline. Upcoming Tech & Media Events YOU should be attending [DISCOUNTS] Time for an update! The first month of 2011 has passed and now it's time to take a look what the year ahead brings us. We've listed lots of new upcoming tech & media events for you, so make sure you clear your schedule. Dating Sites For -- and By -- Entrepreneurs. Business owners find a market niche in their unique relationship dilemma. For single entrepreneurs, the dating game offers unique challenges. The long hours, obsession with work and unpredictable lifestyle are all factors that can interfere with a single date, not to mention the delicate process of building a relationship.
10 Fascinating Facts About E-mail. Love it or hate it, there's no debating just how much e-mail has changed the way we communicate. Since the 1990s, electronic mail has eclipsed snail mail and the fax to become the standard in the business world, and although social media sites are edging in on personal online messaging, e-mail still holds strong in that arena. You may use it everyday, but how much do you know about e-mail? Do you know who sent the first message? 8 Ways Entrepreneurs Can Get More Out of Twitter. Scott Gerber is a serial entrepreneur, angel investor, public speaker and author of Never Get a "Real" Job: How to Dump Your Boss, Build a Business and Not Go Broke.
The content for this post was sourced from the Young Entrepreneur Council, a group of successful Gen Y business owners. You can submit your questions to this group on NeverGetaRealJob.com. To tweet or not to tweet. That is the question on many business owners' minds. The State of the Internet: Summing Up 2010 - The Social Media Guide. Skype to embark on a 350 person hiring binge in 2011.
Should You Really Be A Startup Entrepreneur? Mixtent founder on the launch of his social recruitment and ranking startup. Why staying put may be your best career move. London city workers to get free 15 minute daily access to The Cloud Wi-Fi network. The White House pushes entrepreneurship with help from Facebook, Intel and more. Business Editor Robert Guest answers your questions on Twitter: Live on Twitter: Who are the global elite?
San Francisco Social Media Week / Blog. European startup accelerators join US entrepreneurship drive. The Need for A Centralized Social Media Control Station | Smedio | The New Media and Social Web Guide for Business and Marketers. Where Does Google Chrome Store User History, Profile & Bookmarks? » Ellis Web. 2011 - The Year Social Media Bubble Will Eventually Burst | Smedio | The New Media and Social Web Guide for Business and Marketers. Startup Graphic.ly Raises $3M for "Bonus Features" for Comic Books. How A Startup Named Hipster Got 10K Signups In Two Days, Without Revealing What It Does. 2010: the year in internet stats. Are We Headed for Another Dot-Com Crash? [POLL]
Salesforce and Softbank Group invest $4 Million in Seesmic. Social Media Week / Event Spotlight (SMW HK): Bloggers Series, With A Focus On: Fashion –win a facial or two!
---