Mode
AnOther | Loves
More Photos of Daria Werbowy in Balenciaga's Spring Ads On the Vine--Following up a preview last week, Balenciaga has released even more images from its spring-summer 2014 campaign featuring Daria... Tao Okamoto Wears Calvin Klein for Prestige Singapore by Wee Khim Tao in CK--Japanese model Tao Okamoto graces the January cover of Prestige Singapore, posing in a fringe-embellished dress. Photographed by Wee...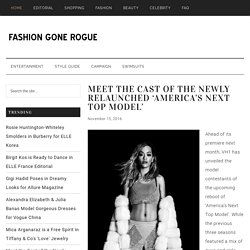 sigrid agren superstar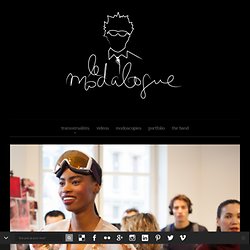 Modoscopie | Vincent Rouvière, le Podium Jeunes Stylistes Ci-dessus: Vincent Rouvière, quelques minutes avant le début du défilé de l'édition 2014 du Podium Jeunes Stylistes "D'aussi aussi loin que je m'en souvienne, j'ai toujours été passionné de mode" vous dira Vincent Rouvière, entrepreneur, consultant, fondateur et président du… Encore plus! →
mode d'amour
Women's Fashion and Style Recommendations from WhoWhatWear.com
anna bo - journaler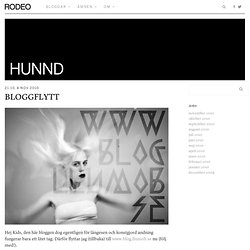 Berättelser måste födas, särskilt när de inte kan. Mina tankar skenar som skrämda rådjur men jag ska inte gråta min väg ut ur det här kaoset. Hur doftar en morgon? Hur doftar känslan av den första kyssen? Det är så många saker som gör ont i mig. Ljuset, hur det faller i så märkliga vinklar.
Hunnd | Rodeo Magazine
Home - Street Fashion & Street Style - feed me fashion
STEP 1: Okay, it's selfie time. You're bored, you don't really know what to do. Best you're somewhere where nobody isn't really watching you. Because you have to admit, selfies are awkward and just so not fun more of the time...IN PUBLIC. So let's sayyyy, you go to the bathroom. Ugh, it's unattractive and you've got hairspray bottles lying around.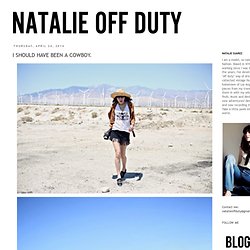 Fashion - 2010 Fashion Online at Refinery29.com Experts
NYC, early September 2013. A few snapshots from an afternoon spent wandering the High Line, West Village and Hudson River Park back in September last year before NYFW. I ♥ New York. Although I love trying out new restaurants and coffee shops, I seem to return to these places on each visit (sometimes it's nice to have the comfort of the familiar):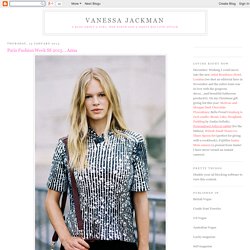 mode d'amour
WOMEN - OPENING CEREMONY
Project No.8
Assembly New York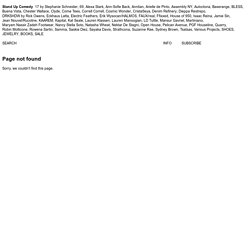 Salvor Projects: IO TU NOI TUTTI Building Block: Dice, Stash Umool Umool: Vol. 10: 2, 3, 4, 5...
Front Page : Stand Up Comedy
home
Fatal - shopfatal.com
SEVEN NEW YORK
Sorry...
anica boutique
Definitive Touch - Men's Fashion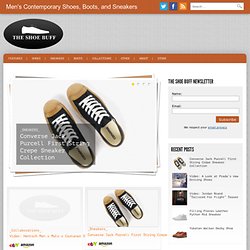 | The Shoe Buff - Men's Contemporary Shoes, Boots, and Sneakers
Men's Contemporary Shoes, Boots, and Sneakers Shoes Grenson 'Sid' Long Wing Leather Brogue Ebay Amazon
During my off-blogging time (which evidently lasted a year, oops!), I graduated with my Bachelor's of Science in Chemistry, while also studying French, and now I can focus on my career in chemistry, but also on what I love most: fashion, style, and inspiration. So to start this new stage in my life, I decided to paint a bit since my creativity has been lacking recently, big time. And who was the most appropriate image to paint for my new life as a chemist? Well of course, Walter White, also known by his pseudonym "Heisenberg", from the critically-acclaimed American drama series, "Breaking Bad." If you haven't watched this show (and I advise you to do so!)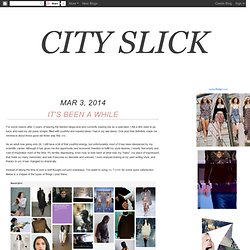 CITY SLICK
STRONG, POWERFUL, REDUCED.
definitely golden »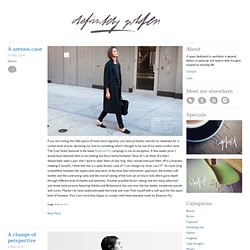 The beauty of a new year is the feeling of starting over, afresh, having a blank canvas at your disposition and a clear mind…LET'S STOP RIGHT THERE. I don't know about you but my "clear mind" resembles much more my kitchen after a very successful party than the supposed zen-space. So, with all these ideas, tasks and deadlines, crying for my attention, where am I supposed to start?Maybe with the 3.1 Phillip 2013 holidays collection and more specifically with the two looks above. The styling (loose T, tucked in hair) is flawless and both jackets are matching my idea of perfect wardrobe staples. But there is more: surprisingly I am finding myself relenting to the idea of wide legged trousers and not any white legged trousers, ladies and gentlemen: white wide legged trousers which are luxuriously touching the ground.