Kodusse
Cookie Box Organizer DIY Projects.
Washi tape decorated cord. Cords are one of my biggest pet peeves. we have to bring tons of power cords to run all over the ground when we teach blogshop and they definitely aren't good looking. it's hard when you put so much effort into the looks of an event and then the cords come in and mess with it. in our office, there's cords all over the place too, so we figured we would make them at least look a little better if they have to show…and what's so great about this project is that it's VERY simple and you can customize them to match any room!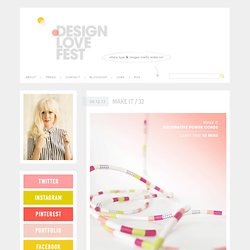 CONTINUE READING by clicking below… what you'll need: Felt flowers. Lipsukestega kirjaklambrid. Personalized Pennant Banner. Dreamcatcher. Hemp pendant lamps. Inspired by West Elm's gorgeous Abaca pendant lamps Super talented Heika DeHart strikes again.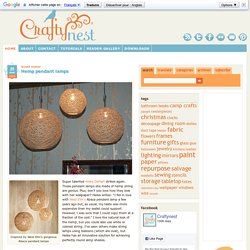 These pendant lamps she made of hemp string are genius. Light Fixtures. Do you have an eye sore of a light fixture in your home, or just one that isn't quite sitting well with you?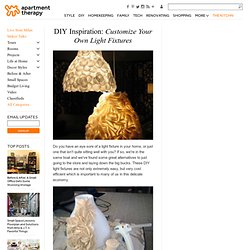 If so, we're in the same boat and we've found some great alternatives to just going to the store and laying down the big bucks. These DIY light fixtures are not only extremely easy, but very cost efficient which is important to many of us in this delicate economy. A great way to spruce up an inexpensive pendant lamp from IKEA is to simply add pieces of Felt — Kate from design*sponge thought of this idea and the end result is really quite amazing. She bought a few sheets of felt from a local craft store and cut them into small circles, found her old hot glue gun and started gluing away. Bottle Lamp DIY Projects. Dinosaurustega purgid. Round bottomed buckets. I love seeing fabric around the house, and I love making useful things out of fabric.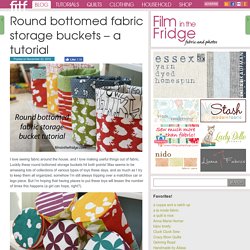 Luckily these round bottomed storage buckets hit both points! Max seems to be amassing lots of collections of various types of toys these days, and as much as I try to keep them all organized, somehow I'm still always tripping over a matchbox car or lego piece. But I'm hoping that having places to put these toys will lessen the number of times this happens (a girl can hope, right?). Of course, toys aren't the only thing you could store here – they'd also be good for knitting supplies, fabric scraps, hats & mittens, um… a pretty covering for a potted plant?
Whatever you want! DIY Pouf. Cheap&chic pet bed. If you have a dog, you know all about rainy days, muddy days, chewy days, leaky days, dusty days, found a bone-or-dead-creature-and-having-fun days... do you need more "exhibit XY days"?
There's plenty of traces in their beds, usually...Our beloved doggies can be quite messy.Well, for sure mine are. ... Lucky has everything blue to be color-matched to her blue eye... Like this bed, for example :) She loves it: it's comfortable, easy to wash and, of course, since you pick, can be matched with every decor in your home (and/or any color scheme you are into (and therefore your dog, duh.)).
---