VÆV
The three-layer false doubleweave got another washing, this time with a gentler program (I did not want it to shrink further, I just wanted to get rid of the pressed look). Of course I forgot to measure brfore, but it can't have shrunk much (I think). However, the pressed end still showed as flatter than the rest. I think the mangled end reverted to "almost untreated".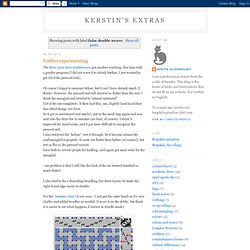 false double weave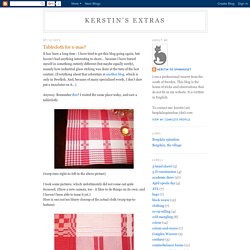 It all started with the DFW (Double Flyer Wheel). I wanted to know where it came from (or, at least, from whereabouts in the country this kind of accelerated driving was known). I had seen something in a (borrowed) book - had to buy it for myself. Was sort of disappointed - there was a wheelwright mentioned, that much was right, but, as it were, only in passing.
Kerstin's extras
Fall Ikat in "Echo" I have always been enamored with color and pattern. I take design inspiration from nature, western landscapes and Native American art. I am intrigued by texture,color, geometric forms and patterns created by nature and translated by cultures around the world into rugs, basketry, pottery and clothing.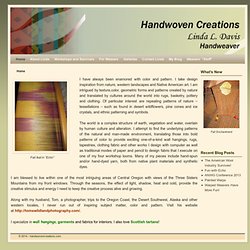 tartans, wallhangings, handwoven fabric, Linda L Davis, Linda Davis
tartan design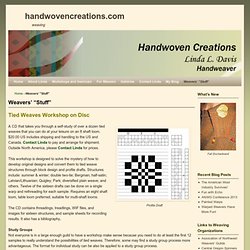 Tied Weaves Workshop on Disc Profile Draft A CD that takes you through a self-study of over a dozen tied weaves that you can do at your leisure on an 8 shaft loom. $20.00 US includes shipping and handling to the US and Canada.
Ikat Tape - Shibori & Ikat from Maiwa Supply
Gradations
June 2012 | Complex Weavers
Peggy's Weaving Tips > Learn about the automatic reed hook | Peggy Osterkamp's Weaving Blog
Marian Stubenitsky
INDIGO estudio textil
textile and fibre art resources - techniques>weaving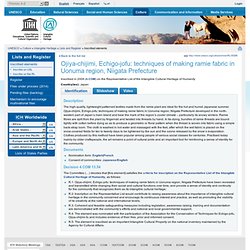 http://www.unesco.org/culture/ich/en/RL/00266 Back to the full list Inscribed in 2009 (4.COM) on the Representative List of the Intangible Cultural Heritage of Humanity Country(ies): Japan
Culture Sector - Intangible Heritage - 2003 Convention :
Resources
weavewright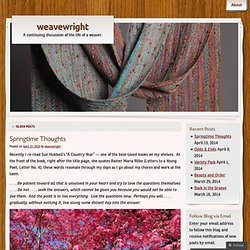 Light in a Dark Time It's been an exceptionally difficult year for me, the main challenge being the steady decline of my husband — both physically and mentally — to the point where much of my time and energy has been given over to his care. Part-time caregiving help from March into September lightened the load considerably and gave me some unfrazzled studio time many days. But it wasn't enough, and in the end John was hospitalized for a few days in mid-September, then moved to a rehab facility and thence (several weeks later) to a long-term care situation. Somwhere in the midst of this exhausting and discouraging time, I welcomed the lovely creature you see above into my life as my Studio Cat.
e-weaving
Yarn - Weaving Supplies - Looms - Lunatic Fringe Yarns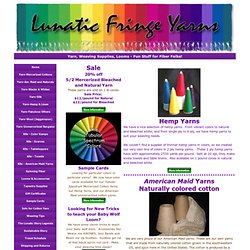 These yarns are sold on 1 lb cones. Want to give a perfect gift this year to your favorite weaver or spinner? Let them choose what they would like to add to their yarn stash. We have gift certificates available. We have some clever tricks to teach your baby wolf loom. Accessories like Weave me AWONES, Jazz Bands and Beam me Up Scotties.
Robyn Spady's Blog
Wow! Summer has gone by quickly and I've been very remiss in working my way through posting my 50 favorite things . . . so, folks, I'm back and ready to roll with #30! Many weavers love to weave, but don't like warping a loom. Frankly, I love the systematic method I go through threading my loom one warp end at a time.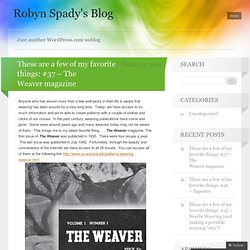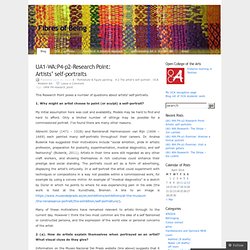 During this course I've felt a bit defensive at times, working hard to throw off the shackles of colonialism slash imperialism, the tyranny of distance, the cultural cringe. This is my moment – the photograph in the course notes illustrating this exercise shows Blue Poles by Jackson Pollock and it's here in Australia. One could argue that we just swapped one colonial master for another and that Australian culture is still cringing, which has elements of truth – but not the whole truth and not relevant to the fact that a few weeks ago I was able to catch a bus to Canberra, just 3.5 hours down the road, and sit in front of Blue Poles at the National Gallery of Australia. Blue poles [Number 11, 1952] by Jackson Pollock (1952).
Fibres of Being
TOKOLO.com
Diversified Plain Weave sampler « Fibres of Being
This is a class sampler I wove back in May – so if my recap of the theory is wrong, please let me know so I can correct it :) Liz (Calnan – my weaving teacher) explained that diversified plain weave is a development of plain weave. Thick and thin yarns are used in sets of three – thin, thick, thin – in both warp and weft.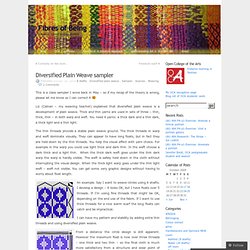 EVA STOSSEL'S WEAVING BLOG
In my childhood days in Romania, I was so fascinated by fibers and textiles that one day I cut a swatch out of my mother's favorite heirloom tablecloth to add to my collection of fabric samples! As the years passed, my curiosity about how the things I collected were made led me to the study of handweaving, an ancient and beautiful art of infinite scope. I've been weaving with a sense of wonder for over 30 years. You are invited to view my Gallery to see some of my favorite past and present work. To learn more about weaving click on the Categories cloud or on Weaving Drafts & More where my posts are arranged by weaving topic with the number of shafts noted for each project.
Handwoven by Shepherd's Delight
The Handweavers Studio & Gallery Japanese high twist wool
SKYTTEN
Din Hobby butik på nettet, Hørmann Hobby - Hørmann-Hobby ApS
På Spinnhuset finns handvävd textil och akademisk dräkt