VÆV
Wovens on Pinterest. Margo Selby. False double weave. The three-layer false doubleweave got another washing, this time with a gentler program (I did not want it to shrink further, I just wanted to get rid of the pressed look).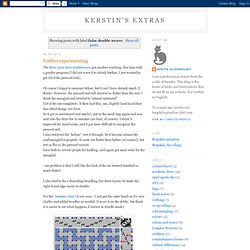 Of course I forgot to measure brfore, but it can't have shrunk much (I think). However, the pressed end still showed as flatter than the rest. I think the mangled end reverted to "almost untreated". Kerstin's extras. Tartans, wallhangings, handwoven fabric, Linda L Davis, Linda Davis. Tartan design. Tied Weaves Workshop on Disc Profile Draft A CD that takes you through a self-study of over a dozen tied weaves that you can do at your leisure on an 8 shaft loom. $20.00 US includes shipping and handling to the US and Canada.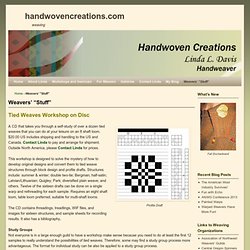 Ikat Tape - Shibori & Ikat from Maiwa Supply. Gradations. June 2012 | Complex Weavers. Peggy's Weaving Tips > Learn about the automatic reed hook | Peggy Osterkamp's Weaving Blog. INDIGO estudio textil. Textile and fibre art resources - techniques>weaving. Culture Sector - Intangible Heritage - 2003 Convention : Back to the full list Inscribed in 2009 (4.COM) on the Representative List of the Intangible Cultural Heritage of Humanity Country(ies): Japan.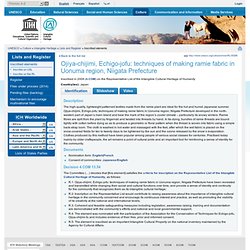 Resources. RGB / CMYK Convertor Sett & YPP Calculator Mother of All Spreadsheet Hemstitching Hemstitching Creating Presets.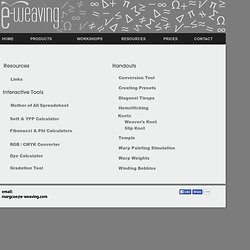 Weavewright. E-weaving. Yarn - Weaving Supplies - Looms - Lunatic Fringe Yarns. Robyn Spady's Blog. Fibres of Being. TOKOLO.com. Diversified Plain Weave sampler « Fibres of Being. This is a class sampler I wove back in May – so if my recap of the theory is wrong, please let me know so I can correct it :) Liz (Calnan – my weaving teacher) explained that diversified plain weave is a development of plain weave.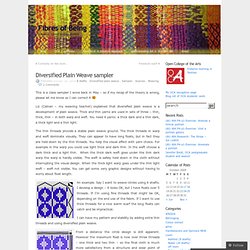 Thick and thin yarns are used in sets of three – thin, thick, thin – in both warp and weft. EVA STOSSEL'S WEAVING BLOG. Handwoven by Shepherd's Delight. The Handweavers Studio & Gallery Japanese high twist wool. SKYTTEN. Din Hobby butik på nettet, Hørmann Hobby - Hørmann-Hobby ApS. På Spinnhuset finns handvävd textil och akademisk dräkt.
---