VÆV
The three-layer false doubleweave got another washing, this time with a gentler program (I did not want it to shrink further, I just wanted to get rid of the pressed look). Of course I forgot to measure brfore, but it can't have shrunk much (I think). However, the pressed end still showed as flatter than the rest. I think the mangled end reverted to "almost untreated".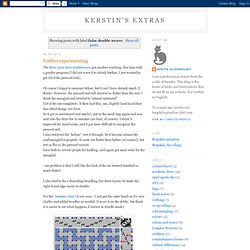 false double weave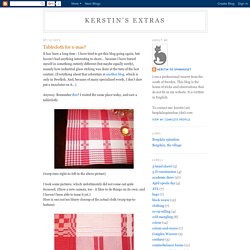 It all started with the DFW (Double Flyer Wheel). I wanted to know where it came from (or, at least, from whereabouts in the country this kind of accelerated driving was known). I had seen something in a (borrowed) book - had to buy it for myself. Was sort of disappointed - there was a wheelwright mentioned, that much was right, but, as it were, only in passing.
Kerstin's extras
Fall Ikat in "Echo" I have always been enamored with color and pattern. I take design inspiration from nature, western landscapes and Native American art. I am intrigued by texture,color, geometric forms and patterns created by nature and translated by cultures around the world into rugs, basketry, pottery and clothing.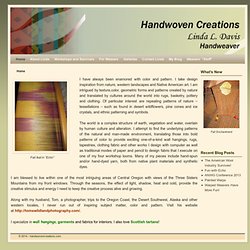 tartans, wallhangings, handwoven fabric, Linda L Davis, Linda Davis
tartan design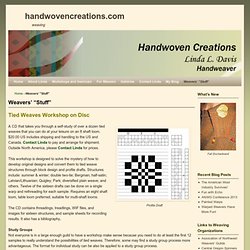 Tied Weaves Workshop on Disc Profile Draft A CD that takes you through a self-study of over a dozen tied weaves that you can do at your leisure on an 8 shaft loom. $20.00 US includes shipping and handling to the US and Canada.
Ikat Tape - Shibori & Ikat from Maiwa Supply
Gradations
June 2012 | Complex Weavers
Peggy's Weaving Tips > Learn about the automatic reed hook | Peggy Osterkamp's Weaving Blog
Marian Stubenitsky
INDIGO estudio textil
textile and fibre art resources - techniques>weaving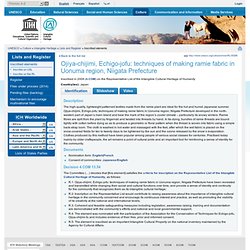 http://www.unesco.org/culture/ich/en/RL/00266 Back to the full list Inscribed in 2009 (4.COM) on the Representative List of the Intangible Cultural Heritage of Humanity Country(ies): Japan
Culture Sector - Intangible Heritage - 2003 Convention :
Resources
weavewright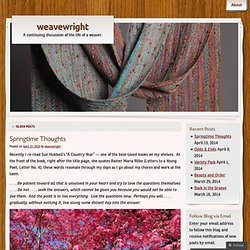 Springtime Thoughts Recently I re-read Sue Hubbell's "A Country Year" — one of the best-loved books on my shelves. At the front of the book, right after the title page, she quotes Rainer Maria Rilke (Letters to a Young Poet, Letter No. 4); these words resonate through my days as I go about my chores and work at the loom. . . . . Be patient toward all that is unsolved in your heart and try to love the questions themselves . . . .
e-weaving
Yarn - Weaving Supplies - Looms - Lunatic Fringe Yarns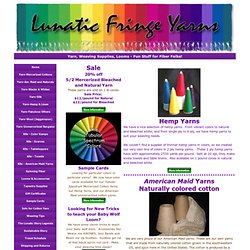 These yarns are sold on 1 lb cones. Looking for particular colors or particular yarns? We now have color cards available for our Tubular Spectrum Mercerized Cotton Yarns, our Hemp Yarns, and our American Maid unmercerized cotton yarns. We have some clever tricks to teach your baby wolf loom. Accessories like Weave me AWONES, Jazz Bands and Beam me Up Scotties. Scotties get rid of that black apron rod cord.
Robyn Spady's Blog
My latest favorite thing has been referred to as many things . . . Needle weaving, teneriffe embroidery, pin weaving, and more. What I'm trying to do is encourage weavers and fiber artists to think small and scale down their weaving. This makes many forms of needle weaving portable.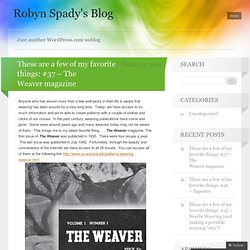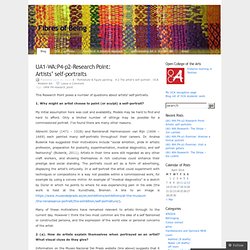 As part of the final assignment I must produce an illustrated report of around 2,000 words on a subject of my choice. I have chosen The Stripe. Loom weavers spend a lot of time designing stripes or fighting / hiding stripes. There's a lot more to weaving of course, but that fundamental step of warping the loom has you making decisions about all those parallel lines.
Fibres of Being
TOKOLO.com
Diversified Plain Weave sampler « Fibres of Being
This is a class sampler I wove back in May – so if my recap of the theory is wrong, please let me know so I can correct it :) Liz (Calnan – my weaving teacher) explained that diversified plain weave is a development of plain weave. Thick and thin yarns are used in sets of three – thin, thick, thin – in both warp and weft.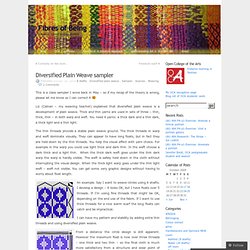 EVA STOSSEL'S WEAVING BLOG
In my childhood days in Romania, I was so fascinated by fibers and textiles that one day I cut a swatch out of my mother's favorite heirloom tablecloth to add to my collection of fabric samples! As the years passed, my curiosity about how the things I collected were made led me to the study of handweaving, an ancient and beautiful art of infinite scope. I've been weaving with a sense of wonder for over 30 years. You are invited to view my Gallery to see some of my favorite past and present work. To learn more about weaving click on the Categories cloud or on Weaving Drafts & More where my posts are arranged by weaving topic with the number of shafts noted for each project.
Handwoven by Shepherd's Delight
The Handweavers Studio & Gallery Japanese high twist wool
SKYTTEN
Din Hobby butik på nettet, Hørmann Hobby - Hørmann-Hobby ApS
På Spinnhuset finns handvävd textil och akademisk dräkt