Social Business
Social Business should become structural | Bertrand Duperrin's Notepad. Summary : there is no change without people and social business or 2.0 projects are not exceptions.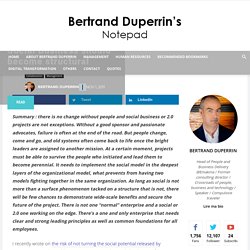 WIthout a good sponsor and passionate advocates, failure is often at the end of the road. But people change, come and go, and old systems often come back to life once the bright leaders are assigned to another mission. At a certain moment, projects must be able to survive the people who initiated and lead them to become perennial. It needs to implement the social model in the deepest layers of the organizational model, what prevents from having two models fighting together in the same organization. Why IBM Represents The Future Of Social Business.
Valtech jamespot-social business.
---