Ed Tech Tools
Eric Mazur on new interactive teaching techniques | Harvard Magazine Mar-Apr 2012. In 1990, after seven years of teaching at Harvard, Eric Mazur, now Balkanski professor of physics and applied physics, was delivering clear, polished lectures and demonstrations and getting high student evaluations for his introductory Physics 11 course, populated mainly by premed and engineering students who were successfully solving complicated problems.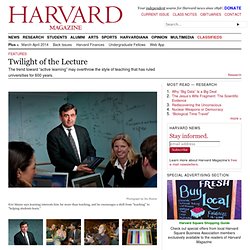 Then he discovered that his success as a teacher "was a complete illusion, a house of cards." The epiphany came via an article in the American Journal of Physics by Arizona State professor David Hestenes. He had devised a very simple test, couched in everyday language, to check students' understanding of one of the most fundamental concepts of physics—force—and had administered it to thousands of undergraduates in the southwestern United States. Displays. Classroom Guide: Top Ten Tips for Teaching with New Media. Safe search engines for kids? Reader Q+A at Cool Mom Tech. What's the best search engine for kids, in your experience?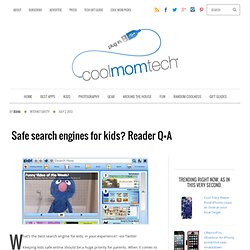 -via Twitter Keeping kids safe online should be a huge priority for parents. 12 Things Students Should Never Do on Social Media. The last thing young people want is another set of rules.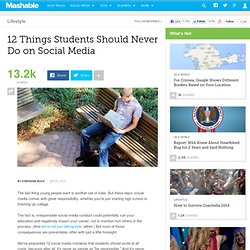 But these days, social media comes with great responsibility, whether you're just starting high school or finishing up college. The fact is, irresponsible social media conduct could potentially ruin your education and negatively impact your career, not to mention hurt others in the process. (And we're not just talking kids, either.) But most of those consequences are preventable, often with just a little foresight.
We've pinpointed 12 social media mistakes that students should avoid at all costs, because after all, it's never as simple as "be responsible. " Moodle. 100 Teaching Tools You Should Know About. 5 Ways To Be A Better Public Speaker 7.15K Views 0 Likes If you've been asked to speak at a conference or host a seminar, you may be shaking in your boots.
Not only is the thought of speaking in public nerve-wracking, but being in charge of a seminar that no one wants to at... 20 Must-Have Educational Resources For All Teachers. Edudemic often features posts providing a list of top resources for a particular category.
Recently, the site gettingsmart.com posted the names of the LAUNCHedu finalists chosen by the SXSWedu® Conference, offering even more resources for the Edudemic staff to consider! On March 7, 2012, they will choose winners after a full day of presentations by the finalists. There are so many sites and programs on the Internet already, but this competition just goes to show that the need for educational resources is still great.
50 new tech tools you should know about. Many have referred to Path as the "anti-Facebook" for its attempts to make social networking more personal .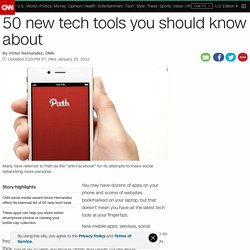 CNN social media savant Victor Hernandez offers his biannual list of 50 new tech toolsThese apps can help you shoot better smartphone photos or catalog your bottle-cap collection (CNN) -- You may have dozens of apps on your phone and scores of websites bookmarked on your laptop, but that doesn't mean you have all the latest tech tools at your fingertips.
New mobile apps, services, social networks and other digital tools pop up so frequently that keeping up with them is a nearly impossible task. Just when you think you're up to date, something newer and hipper comes along. But before you wave the white flag, let us help. Top 50 Google+ Circles for Cutting-Edge Educators » Online College.org. Google+ may still be finding its own footing among the Twitters and Facebooks of cyberspace, but nevertheless hosts a cornucopia of networking opportunities spanning numerous subjects.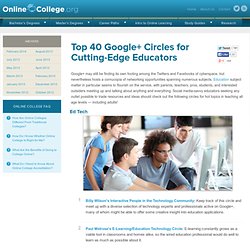 Education subject matter in particular seems to flourish on the service, with parents, teachers, pros, students, and interested outsiders meeting up and talking about anything and everything. Social media-savvy educators seeking any outlet possible to trade resources and ideas should check out the following circles for hot topics in teaching all age levels — including adults! Ed Tech. New App Tells Teachers When Students Are Confused. Much has been said about how connected devices, whether in college lecture halls or elementary school classrooms, can distract students.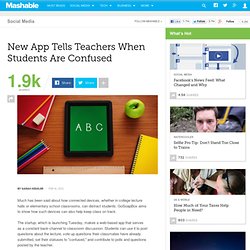 GoSoapBox aims to show how such devices can also help keep class on track. The startup, which is launching Tuesday, makes a web-based app that serves as a constant back-channel to classroom discussion. Students can use it to post questions about the lecture, vote up questions their classmates have already submitted, set their statuses to "confused," and contribute to polls and questions posted by the teacher. Free Notetaking Sites. Qwiki - The Best Way to Share Anything : Qwiki. A List of Free Must Have PDF Tools for Educators. I love PDFs and I favour them over the other document formats and I am pretty sure many of you love then too.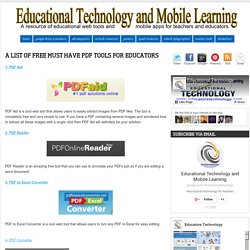 There are many things we can do with them apart from just viewing and reading them. Web 2.0 technologies have provided us with some free awesome tools to interact with this document format. We can now annotate, highlight, customize text font, add colours, add hyperlinks and many more, things which were until recently impossible to do on PDFs. K-12 Tech Tools © - home. 80 Online Tools, References, and Resources. 11/10/11 Update: We have an additional 30 plus tools, references, and resources submitted by community members.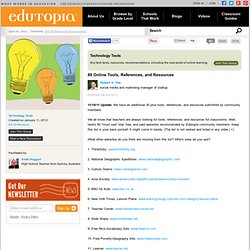 We all know that teachers are always looking for tools, references, and resources for classrooms. Well, here's 80 "must see" trial, free, and paid websites recommended by Edutopia community members. Keep this list in your back pocket! It might come in handy. Top 10 Ed-Tech Startups of 2012. It probably goes without saying, but I'll type it out anyway: 2012 was an incredible year for education technology startups. Launches. Updates. Funding. Acquisitions.
Adoption. Coding the Curriculum: How High Schools Are Reprogramming Their Classes. There are no lockers in the hallways at Beaver Country Day School. Instead, backpacks and tote bags line either side of the floor while students step over them during the mid-morning rush to class. Nearly everyone is carrying a laptop.
"There used to be lockers, but nobody was really using them," a passing staff member tells me with a shrug. 5 Best Practices for Applying Game Mechanics to Your Website. Craig Ferrara is a senior gaming & UI expert at Gigya, where he designs the integrations of Gigya's technology into clients' websites. Gigya makes sites social by integrating a suite of plugins like Social Login, Comments, Activity Feeds, Social Analytics and now Game Mechanics into websites. Conversations about game mechanics — the rules that govern how enjoyable a game is — are changing.
Open Badges 101. Gamification-education.png 1000×5700 pixels. Finalists for the Microsoft Partners in Learning 2012 US Forum - TeachTec. Today we are excited to announce the official list of educators for the Microsoft Partners in Learning 2012 US Forum. This is the 8th annual Partners in Learning Forum, a global program that last year attracted more 250,000 educators from over 70 countries.
The Partners in Learning 2012 US Forum focuses on showcasing and celebrating educators and the work they are doing in classrooms across the United States. 21 Things That Will Be Obsolete by 2020. What Will Education Look Like in 2020? How and Why to Teach Your Kids to Code.
Class Flipping. iPad. Online Course and Open Access. QR Codes. Visualization Tools. UDL Book Builder. Kathy Schrock's Guide to Everything - Home Page. Sweet Search.
Check Spelling, Style, and Grammar with After the Deadline. 6 Important Wikipedia Tools for Teachers. Gamestar Mechanic. Sticky note sites. Organize your resources in an online binder - LiveBinders. Mike Matas: A next-generation digital book. Lore. K-12 Education & Learning Innovations with Proven Strategies that Work.
Assignment Survival Kit. Memrise - the fun way to learn anything. Paola Brown Student Learning Tools. Great Tutorial on How to Create your Own eBook on iPad. Wikibrains. Flubaroo grading site. 20 Brain Break Clips: Fight the Fidgeting. How to Make Forms, Surveys, and Quizzes in Google Docs and Spreadsheets or Google Apps. Google Resources in Education. Class Resources. Apps in Education. Information Research.
BrainPOP - Animated Educational Site for Kids - Science, Social Studies, English, Math, Arts. Online Fun for Kids. PBS Idea Channel. The Kid Should See This.
eLearn Magazine. A New Digital Divide? Future U: fear and loathing in academia. 7.2 Metaphors of the Mind. 7 Habits of Highly Effective Tech-leading Principals. Edudemic | Education Technology, Teacher Tools, Apps and More. Project Switch: A Small Game Experiment Yields Big Lessons. BBC Research: The Mythology Engine. Persuasive Tech. Apps for Poets! Mathalicious. Fibonacci Tree. 94 Elements | Stories from Hydrogen to Plutonium. Teaching Math Without Words, A Visual Approach to learning Math from MIND Research Institute. Think.com, Oracle Education Foundation, Projects | Competition | Library.
Kerpoof Studio. Create Rich, Active and Social eLearning with Curatr. Silk - a brand new way to create and consume content. Metta — Storytelling + Polling In One Compact Format. The Literacy Shed - The Literacy Shed Home. Why Kidblog | Kidblog. Publication Network - Youblisher.com - turn pages / flippable pdfs - pdf's zum umblättern. A Simple Guide for Teachers to Create eBooks on iPad using iBook Author.
Learn Web Design, Web Development, and More | Treehouse. Electronic Arts announces 'SimCity' for the classroom. Edtech tools. BuildingTools. Kinds of Digital Media for Learning.
---