Blogs
Omnivore. The inaugural issue of Policy and Complex Systems is out, Calestous Juma (Harvard): Complexity, Innovation, and Development: Schumpeter Revisited.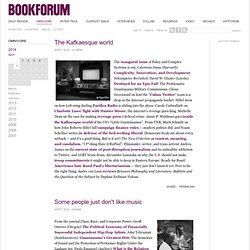 David W. Glazier (Loyola): Destined for an Epic Fail: The Problematic Guantanamo Military Commissions. Glenn Greenwald on how the "Cuban Twitter" scam is a drop in the Internet propaganda bucket. The Awl - Be Less Stupid. Public Culture. Public Books — A curated monthly review devoted to spirited debate about books and the arts. Savage Minds | Notes and Queries in Anthropology — A Group Blog. Gerry Canavan. FlowingData | Data Visualization, Infographics, and Statistics. Viz Blogs. BibliOdyssey. Lapham's Quarterly.
Edge : Conversations on the edge of human knowledge. Big Think. Interviews on broad topics, design emphasis. Think Quarterly by Google. Creative Commons. Ads without products. Culture blogs. Quality Blogs... Kottke.org - home of fine hypertext products. Kevin Kelly.
Io9. We come from the future. Scrapbook. Go away. Bon Expose | All About Art and Design. Super queer artsy blog. Hey!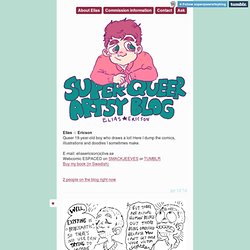 You know I have this webcomic about aliens and adventures and also some queer stuff? I made a tumblr for it! I will still update on Smackjeeves but since most of my readers seem to hang out on tumblr a lot, I figured that this would be a good idea… LooksLikeGoodDesign | Fucking high quality inspiration. Start your novel. Colossal | A blog about art and visual ingenuity. Brain Pickings. It's Nice That. The World's Best Ever:design, fashion, art, music, photography.
Research » Blog Archive. The Future of the City 1: Cities in the Digital Age. This is a community post, untouched by our editors.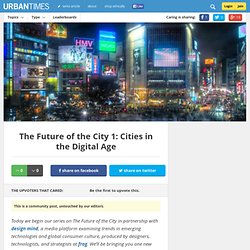 Today we begin our series on The Future of the City in partnership with design mind, a media platform examining trends in emerging technologies and global consumer culture, produced by designers, technologists, and strategists at frog. We'll be bringing you one new article each day this week. GOOD Home Page - GOOD. Ev Williams. Cartoon Brew: Leading the Animation Conversation. My Cardboard Life - Three times a week. DAILY DISHONESTY.
---