Keep Me Entertained
Get flash to fully experience Pearltrees
From Fern Gully to Ghost Writer , Bill Nye The Science Guy to Boy Meets World , this megamix of "ancient" artifacts provides a cornucopia of popular movies, television shows, commercials and video games from the innocent age known as the 90s. Though some of us still channel Clarissa Darling, Alex Mack, and Tia and Tamera every morning while getting dressed, I promise that everyone can enjoy this supercut of memorable pieces of pop culture. Now it's time to relax, turn on the Jock Jams megamix and call it a day! UPDATE: Part Two.
At the start of this year, we decided to come up with a list of Flash casual games with a philosophical bent. To be honest, we struggled. After days of research, we could only find a handful of games that had the thought-provoking depth we were looking for. Our list (which you can view by clicking here ) was therefore only five games long. Fast forward to now, and it is remarkable how much difference a few months can make. Thanks to the work of pioneers like Daniel Benmergui , Gregory Weir and PixelAnte , there is now an abundance of clever arty Flash games to pique our intellects, and as a result creating this follow-up list of games that make you think has been a doddle.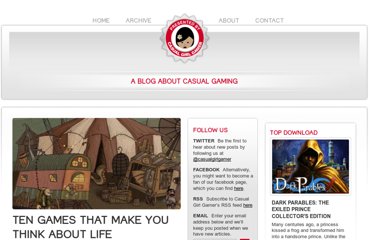 Espionage requires at least two (possibly more) teams of three people each, plus at least one referee. The most unusual part of the game is that the players don't know which team they are on. Teams change with each round. The game is traditionally played at night in a home and the surrounding yard.
The Game The Game of Life is not your typical computer game. It is a 'cellular automaton', and was invented by Cambridge mathematician John Conway. This game became widely known when it was mentioned in an article published by Scientific American in 1970. It consists of a collection of cells which, based on a few mathematical rules, can live, die or multiply. Depending on the initial conditions, the cells form various patterns throughout the course of the game.