Chess
Chess Notes Archives by Edward Winter. Chess Notes Archives Edward Winter 'A forum for aficionados to discuss all matters relating to the Royal Pastime' was the description of Chess Notes in its first issue (January-February 1982), and until 1989 the series ran as a bimonthly periodical (C.N. items 1-1933).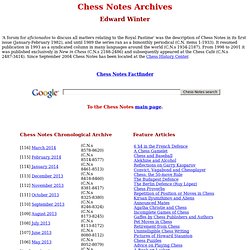 It resumed publication in 1993 as a syndicated column in many languages around the world (C.N.s 1934-2187). From 1998 to 2001 it was published exclusively in New in Chess (C.N.s 2188-2486) and subsequently appeared at the Chess Café (C.N.s 2487-3414). Since September 2004 Chess Notes has been located at the Chess History Center. 50 strategies.
Here we are discussing some basic strategies that can give you advantage, however microscopic it may be.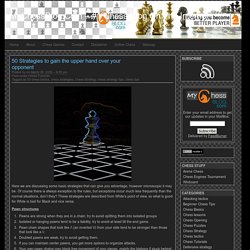 Of course there is always exception to the rules, but exceptions occur much less frequently than the normal situations, don't they? These strategies are described from White's point of view, so what is good for White is bad for Black and vice versa. Brutal chess trick. Chess openings. Play or learn chess. London chess classic. Play chess online. Chess blog.
---