Lisarox62597
Lisa Render
DSC-HX1 | Cyber-shot® Digital Camera HX1
The HX1 features a 9.1 megapixel Exmor™ CMOS image sensor that brings out the full resolving power of the camera's precision G-Lens to deliver extremely fast speed, high resolution, and stunning low-light sensitivity with improved image clarity and drastically reduced noise. With 9.1 megapixels, you can create stunning, photo-quality prints up to A3+ (13x19") size, or crop your images and still come away with high resolution shots. Widen your view and capture more of the city, landscape, or group with a 28mm wide angle G lens.
IM SAVING UP MONEY TO BUY THIS CAMERA :D 470 DOLLARS BY JUNE :P by lisarox62597 May 4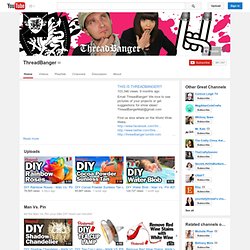 Welcome to YouTube! The location filter shows you popular videos from the selected country or region on lists like Most Viewed and in search results.To change your location filter, please use the links in the footer at the bottom of the page. Click "OK" to accept this setting, or click "Cancel" to set your location filter to "Worldwide".
threadbanger rocks :) they have some fun and easy sewing things :) by lisarox62597 May 4
easiest way to find things that suit your intrest :D fun fun fun :D by lisarox62597 May 4