Recipes
50 Pancakes and Waffles (1 - 10) : Recipes and Cooking. Flavor Substitutions | McCormick® Live deliciously™ The Greatest List of The Coolest Ice Cubes around | One More Gadget. Some of my favorite things are so simple, like ice cube shapes for example.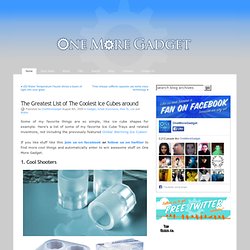 Here's a list of some of my favorite Ice Cube Trays and related inventions, not including the previously featured Global Warming Ice Cubes! If you like stuff like this join us on facebook or follow us on twitter to find more cool things and automatically enter to win awesome stuff on One More Gadget. My Favorite Cake. Period. I use the word "favorite" too often.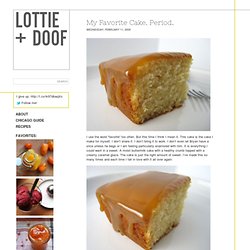 But this time I think I mean it. This cake is the cake I make for myself. Cinnamon Roll Sugar Cookies? Yes! Have I got a treat for you today right before Valentines day!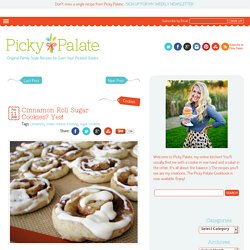 I was getting ready to cut my traditional sugar cookies in the shape of hearts for this post and a little light bulb went off! I don't know if I was craving cinnamon rolls or what, but I thought to myself….I am soooo making these sugar cookies into cinnamon rolls! Brace yourself friends, you will NOT be able to stop eating these, they are that good. Big Red Kitchen: Cinnamon Roll Pancakes. The original and unique Cinnamon Roll Pancake recipe created by Robin Sue!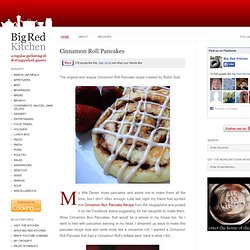 My little Deven loves pancakes and wants me to make them all the time, but I don't often enough. Late last night my friend had spotted this Cinnamon Bun Pancake Recipe from the blogisphere and posted it on her Facebook status suggesting for her daughter to make them. Wow, Cinnamon Bun Pancakes, that would be a winner in my house too. So I went to bed with pancakes dancing in my head. I dreamed up ways to make this pancake recipe look and taste more like a cinnamon roll. Cinnamon Bun Pancake Recipe.
Peanut Butter Mousse in Tuile Cookie Spoons. Recently a friend asked me to bake for an upcoming party she's having, so I've been researching all kinds of bite-sized dessert canapés.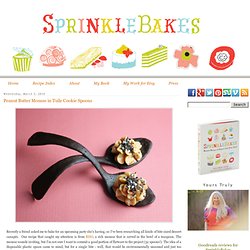 One recipe that caught my attention is from BHG; a rich mousse that is served in the bowl of a teaspoon. The mousse sounds inviting, but I'm not sure I want to commit a good portion of flatware to the project (32 spoons!). The idea of a disposable plastic spoon came to mind, but for a single bite - well, that would be environmentally unsound and just too wasteful. Then, it came to me suddenly.
---