Oceans
Oceans and Law of the Sea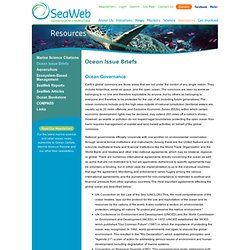 Ocean Briefing Book
Ocean Governance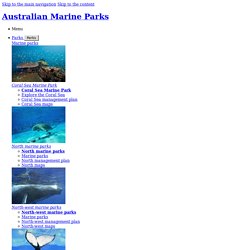 About Australian marine protected areas
Click on the map to select your area of interest Australia has the third largest marine estate of any nation in the world. It is a massive area larger than our landmass and extends from the tropical seas of the north to the sub-Antarctic waters of the Southern Ocean. In 1998, the Commonwealth and state and territory governments committed to the creation of a National Representative System of Marine Protected Areas (NRSMPA) by 2012.
The World Heritage Committee,
World Heritage Centre - World Heritage Marine Programme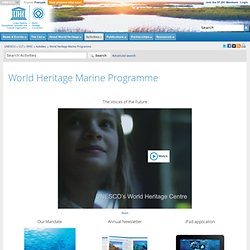 World Heritage Centre - Damage to Great Barrier Reef assessed; stricter shipping surveillance proposed
An inspection team has found the damage resulting from the 3 April grounding of a bulk carrier on the Great Barrier Reef (Australia), a World Heritage site.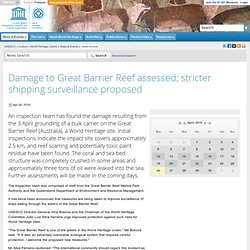 Print Email Share A + A - ocean: boundaries of oceans and seas Figure 1: Boundaries of the world's oceans and seas. Credit: Encyclopædia Britannica, Inc. More Image Galleries... Browse all Image Galleries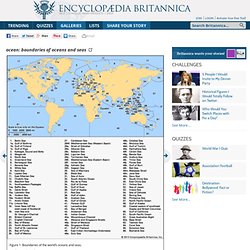 ocean: boundaries of oceans and seas -- Encyclopedia Britannica Online
El Niño (ENSO) Animation V1.25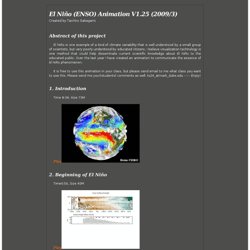 Abstract of this project El Niño is one example of a kind of climate variability that is well understood by a small group of scientists, but very poorly understood by educated citizens. I believe visualization technology is one method that could help disseminate current scientific knowledge about El Niño to the educated public. Over the last year I have created an animation to communicate the essence of El Niño phenomenon.
Upwelling and downwelling - Redmap
Global Ocean Currents
Global ocean currents help to regulate the world's climate and have important effects on marine life. They are composed of deep ocean currents and surface currents. Deep ocean currents move both horizontally and vertically between the ocean bottom and 400 metres below the surface.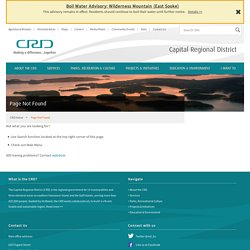 Information about Australia's coast, including its estuaries and coastal waterways and climate change impact
ngdc.noaa.gov/mgg/image/etopo1_ocean_polys.png