Notes and Web Clipping
TiddlyWiki is very flexible, and there are many different ways to use it. Here we're focusing on using it as a standalone file in the browser, which is a good choice for most users as it doesn't require any special knowledge or tools. For more options you can also run TiddlyWiki on Node.js. Video Tutorials are available, too. This method of saving changes is clunky but has the advantage of working on almost all desktop browsers, and many mobile browsers. Download an empty TiddlyWiki by clicking this button:Your browser may ask you to accept the download before it beginsLocate the file you just downloadedYou may rename it, but be sure to keep the .html extensionOpen the file in your browserTry creating a new tiddler using the plus button in the sidebar.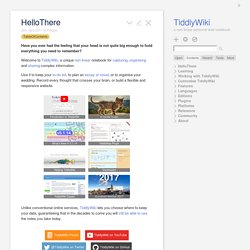 WhizFolders, windows note organizer software, outline software, note taking software, note application
Of all forms of literature, however, the essay is the one which least calls for the use of long words. The principle which controls it is simply that it should give pleasure; the desire which impels us when we take it from the shelf is simply to receive pleasure. Everything in an essay must be subdued to that end. It should lay us under a spell with its first word, and we should only wake, refreshed, with its last. In the interval we may pass through the most various experiences of amusement, surprise, interest, indignation; we may soar to the heights of fantasy with Lamb or plunge to the depths of wisdom with Bacon, but we must never be roused.