Chicago Events
Chicago Shakespeare Theater - Home. The Official Site of The Chicago Cubs | cubs.com: Homepage. Taste of Chicago 2011 | Explore Chicago. DCASE Homepage > Taste of Chicago Revitalized 2013 Taste Of Chicago Profitable For The First Time Since 2007 Taste of Chicago is the nation's premier outdoor food festival showcasing the diversity of Chicago's dining community.
The delicious array of food served at Taste of Chicago is complemented by music and exciting activities for the entire family. Chicago Events, Attractions, and More | Explore Chicago. There are a million places to visit and things to do in Chicago.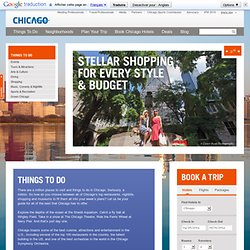 Seriously, a million. So how do you choose between all of Chicago's top restaurants, nightlife, shopping and museums to fit them all into your week's plans?
---