Education and Technology
Technology in the Schools: It Does Make a Difference! Brought to you by: TechnicalSchool.org This year, the Clinton administration earmarked an additional $25 million over last year's budget to help schools integrate technology into the curriculum and for technology training for teachers.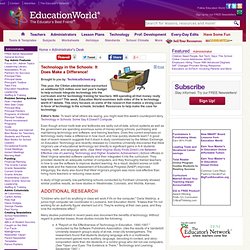 Will spending all that money really help kids learn? This week, Education World examines both sides of the Is technology worth it? Debate. Technology in Education. Critical Issues: Technology in Education Supporting Materials Quick Key 5 - Understanding the No Child Left Behind Act of 2001: English Proficiency helps educators in schools and districts understand the basics of what NCLB means for their English proficiency programs.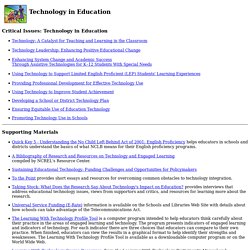 ---