Health
Homemade Natural Beauty Products - 7 Ingredients and 20+ recipes. Facebook. (1) Facebook. Spine. Spinal Neurosurgery Experts in Phoenix, Arizona Spinal surgery at Barrow Neurological Institute incorporates the most advanced techniques to correct disorders of the spine and spinal cord.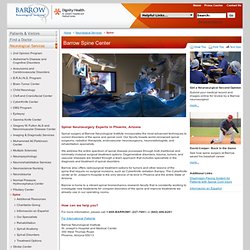 Our faculty boasts world-renowned spinal surgeons, radiation therapists, endovascular neurosurgeons, neuroradiologists, and rehabilitation specialists. We address the entire spectrum of spinal disease processes through both traditional and minimally invasive surgical treatment options. Dean Chou MD - Department of Neurological Surgery | UCSF. Associate Professor of Neurological Surgery Associate Director, UCSF Spine Center Dr.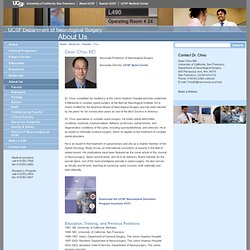 Chou completed his residency at the Johns Hopkins Hospital and then undertook a fellowship in complex spinal surgery at the Barrow Neurological Institute. Are These 27 Adrenal-Boosting Foods & Herbs Helping to Lessen Your Stress? One too many cups of coffee.
Traffic. Late nights. Evil bosses. Cheryl Luptowski: Gluten-Free: Not a Fad But a Necessity for 18 Million Americans. Gluten-free products seem to be everywhere -- from pasta and cookies to bread and even ice cream.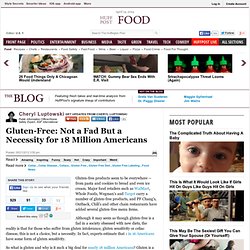 Major food retailers such as WalMart, Whole Foods, Wegman's and Target carry a number of gluten-free products, and PF Chang's, Outback, Chili's and other chain restaurants have added several gluten-free menu items. Although it may seem as though gluten-free is a fad in a society obsessed with new diets, the reality is that for those who suffer from gluten intolerance, gluten sensitivity or celiac disease, this is not a choice, but a necessity.
In fact, experts estimate that 1 in 16 Americans have some form of gluten sensitivity. So what is gluten and why is it such a big deal for nearly 18 million Americans? Gluten is a protein found in wheat, rye and barley that is responsible for the elastic nature of dough. Interview with 'Wheat Belly' Author Dr. William Davis. You all (or y'all, as we say around these parts) submitted so many good questions for Wheat Belly author Dr.
William Davis , we decided to make this a two-part Q & A. We'll probably have part two ready early next week. Fat Head: You're a cardiologist by profession, and yet you just wrote an in-depth book about the negative health effects of consuming wheat. 10 Mood-Boosting Foods You Can Grow. Just being outside, whether you're gardening, exercising, or simply taking a stroll, is a great mood booster.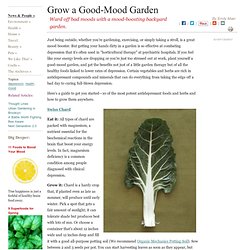 But getting your hands dirty in a garden is so effective at combating depression that it's often used in "horticultural therapy" at psychiatric hospitals. If you feel like your energy levels are dropping or you're just too stressed out at work, plant yourself a good-mood garden, and get the benefits not just of a little garden therapy but of all the healthy foods linked to lower rates of depression. Megan Fox: Removing Marilyn Monroe Tattoo Has Been "Traumatic" Megan Fox is paying for her past mistakes.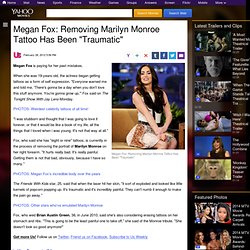 When she was 19-years-old, the actress began getting tattoos as a form of self expression. "Everyone warned me and told me, 'There's gonna be a day when you don't love this stuff anymore. Heart Surgeon Speaks Out On What Really Causes Heart Disease -- Health & Wellness. We physicians with all our training, knowledge and authority often acquire a rather large ego that tends to make it difficult to admit we are wrong.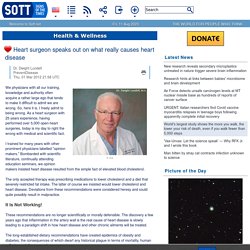 So, here it is. I freely admit to being wrong. As a heart surgeon with 25 years experience, having performed over 5,000 open-heart surgeries, today is my day to right the wrong with medical and scientific fact. I trained for many years with other prominent physicians labelled "opinion makers. " 41 States Sell Out to Merck's HPV Shot Gardasil Vaccine. March 9, 2012 Since 2006, 41 states have introduced legislation to support the HPV vaccine industry, despite the danger of death and injury.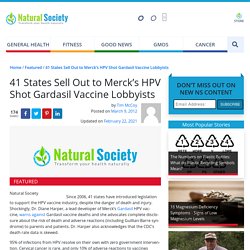 Shockingly, Dr. Diane Harper, a lead developer of Merck's Gardasil HPV vaccine, warns against Gardasil vaccine deaths and she advocates complete disclosure about the risk of death and adverse reactions (including Guillian-Barre syndrome) to parents and patients. Dr. New Evidence of Synergy Between Vitamins A and D: Protection Against Autoimmune Diseases | Mother Nature Obeyed.
One of the perennial topics of this blog is the synergy between vitamins A and D.
A new Japanese study published last July in the journal Immunology Letters (1) provides further evidence of this synergy, this time suggesting the dynamic duo can courageously combat the most flagellant of our inner impulses, keeping our wayward neutrophils in check and barring them from wandering too far down the winding road that leads to autoimmunity. These investigators faced a conundrum. A number of studies suggest that the activated hormone form of vitamin D, calcitriol, has great promise for preventing and treating autoimmune diseases, but its usefulness in the clinical setting is currently limited because it promotes excessive accumulation of calcium in the blood and soft tissues. Keeping Teens Organized. Organizational skills can be the key to the chaos that is your child's life. Teens are often at a loss to know why they cannot find their notes and assignments or are always running behind.
Not all children realize that organizational skills must be modeled and taught. If this is the case with your teen, it may be time to step in and ask if they would like some help organizing and ordering their life. It can be a good time for the two of you to bond and for you to pass on necessary life skills.
---