Fun
Cats / Spider cat defies gravity. #Funny #Cats #LOLcats
Cats / This cat is really crazy. #Funny #Crazy #Cats #LOLcats
Cats / This crazy cat sticks his tongue out. #Funny #Crazy #Cats #LOLcats
Cats / Funny cat with round eyes. #Funny #Cats #LOLcats
Cats / Funny cat with a dog. #Funny #Cats #LOLcats
Cats / Panda cat is not amused. #Funny #Cats #LOLcats
Cats / The Tumbled Bookshelf
Cats / #Funny #Cats #LOLcats
Cats / Lazy cat! #Funny #Cats
Cats / Mrrrraaaaoooooowwwww kssss kssss #Funny #Crazy #Cats
Cats / Box of cats - Shiro and his buddies. #Funny #Cats
Funny / What would male characters look like to if they posed like female ones? :-D #Funny
Skyping with Human, Kitty Not Impressed
Cats / Wig cat #Funny #Cats
Animals / Tortoises #Funny #Animals
Cats / Just married! #Funny #Cats
Cats / Cat, what are you doing over there? #Funny #Cats
Animals / Duck on duck #Funny #Animals
Cats / Hey, cat, what are you doing in T-Rex jaws? #Funny #Cats
Funny / Self-defense steps for women #Funny #Humor
Cats / Square cat #Funny #Cats
Animals / Hey, I'm here! #Funny
Cats / When cow tipping goes bad. #Funny #Cats
Cats / Piss off, sun! #Funny #Cats
Cats / Understanding your cat's emotions #Funny #Cats #Comics
Cats / Relaxing cat #Funny #Cats
Cats / Even in Paradise, cats don't know what they want! lol #Funny #Cats #Humor
Cats / Cats and the heater #Funny #Cats
Cats / Diet fail #Funny #Cats
Funny / Healthcare in the U.S. #Humor #Funny
Cats / Rabbit cat? #Funny #Cats
Cats / Princess Leïa Cat #Funny #Cats
Cats / Unroll all the paper! ALL OF IT! #Funny #Cats
Cats / Kitty forgot his keys. #Funny #Cats
Cats / Hey, I can't see anything more! #Funny #Cats
Cool cats! | Funny and crazy cats
Cat's reaction to the two talking cats
Tonkinese kitten training for CFA Feline Agility | Funny and crazy cats
Yoga Cat - for the love of cats!
_lw318omc3p1qbfnhro1_400
Spider Checks Himself Out In The Mirror Video
The cat and the laser beam
Very weird wedding cake
Cats / Japanese kittens. #Funny #Cats #Kittens #Japan #Cute
Cham à l'eau et ses amis
Plan à trois
Headbutting
Wazaaaaaaa!!!
Hamsters on their flying saucer
Be polite. Go fuck yourself! LMFAO!!!
Funny / Geek zodiac #Funny #Geek
I hope to God that's Batman This picture is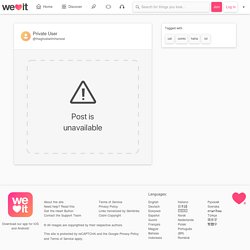 Reporting an entry If this image belongs to you or is your intellectual property, please submit a copyright notification instead of reporting it. We encourage users to report abusive images and help us moderate the content on We Heart It. But please keep in mind that reporting images that are not abusive is against our terms of service and can get your account blocked. If you want to un-heart an image to remove it from your gallery, don't report it.
Tumboner on we heart it / visual bookmark #13736983
Cats / Funny & Crazy Cats - Real "Hello Kitty"
Cats / Piccsy :: Cabbage-leaf cat
Cats / かご猫 Blog
bearded dragon Crazy ANIMAL CHASES A LASER
Wacky Walking Cat - Not Again!!
Useful Dog Tricks 2 performed by Jesse the Jack Russell Terrier
Fighting the evil mirror kitten!
Cat Slap Dog -- Very Funny
FUNNY Cats Fighting, Fat Cat takes a beating
猫ゆっくり沈む
8c4e4336-5c6b-453b-ada6-64108c813baa.gif from cheezburger.com