Travel Apps
TripIt - Travel Itinerary - Trip Planner. LodgeNet Mobile. Description Next time you hit the road, bring along the travel app designed to make your hotel stay even better!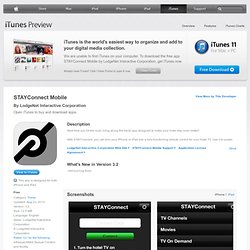 With STAYConnect, you can turn your iPhone or iPad into a fully-functioning remote control for your hotel TV. Use it to power on/off, control volume, change channels, preview, and order/control in-room on-demand movies. Where available, you can even get detailed information about your hotel and access services like in-room dining, make guest service requests, and check out using the app. The STAYConnect app also features a complete Interactive Program Guide for only $0.99 for a full year. Taxi Magic. Top 97 Travel Apps. Home > Top 113 Free Travel Apps 1 to 50 based on popularity Travel applications help users plan trips and learn about distance places through articles, reviews and photos posted by professionals and online communities.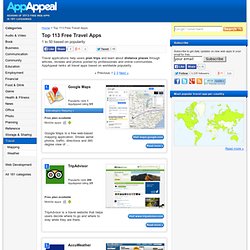 2011 Business Travel 50: How Social Media Has Changed Business Travel. Social networks have changed the way we work—and live.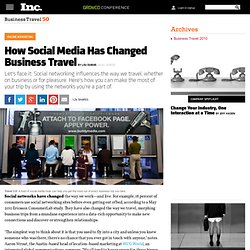 For example, 18 percent of consumers use social networking sites before even getting out of bed, according to a May 2011 Ericsson ConsumerLab study. They have also changed the way we travel, morphing business trips from a mundane experience into a data-rich opportunity to make new connections and discover or strengthen relationships. "The simplest way to think about it is that you used to fly into a city and unless you knew someone who was there, there's no chance that you ever got in touch with anyone," notes Aaron Strout, the Austin-based head of location-based marketing at WCG World, an integrated global communications company. "We all tend to hover around in these bigger metropolitan areas and we're closer to so many people we know than we think we are, but we just don't know it.
So social media kind of tightens up that six degrees of separation, and it also makes for serendipity. " 6 Ways to Improve Your Vacation Using Social Media. The Social Travel Series is supported by join.me, the easiest way to have an online meeting. join.me lets you instantly share your screen with anyone, for free.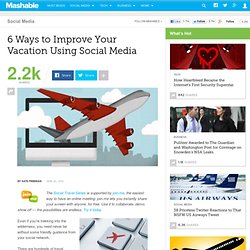 Use it to collaborate, demo, show off — the possibilities are endless. Try it today. Even if you're trekking into the wilderness, you need never be without some friendly guidance from your social network. There are hundreds of travel booking websites — many featuring peer reviews — that travelers find immensely helpful. But beyond the Kayaks and the Jetsetters of the world, there are numerous ways to tap your social network and crowdsource public opinion to help you assemble your travel plans. Deals and Discovery at App Shopper - Top 200 (Free) in Travel for iPhone. Best Travel Websites and Apps. TripIt - Travel Itinerary - Trip Planner.
GateGuru, Airport Info & Flight Status. Description GateGuru is a "Top 5 Air Travel App" - CNN!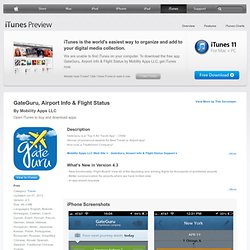 Winner of numerous awards for Best Travel or Airport app! And now, a TripAdvisor Company! OVERVIEWIntroducing GateGuru 4.0 – the ONLY travel app that provides all of the flight and airport information you need to manage your ENTIRE day-of travel. Introducing Dwellable for iPad - DwellableTrends. The wait is over.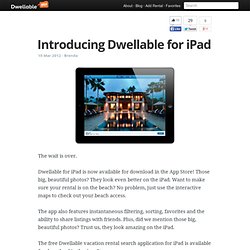 Dwellable for iPad is now available for download in the App Store! Those big, beautiful photos?
---