Travel Apps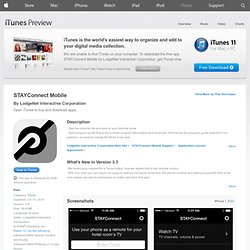 LodgeNet Mobile
Description Before you travel again, download the app that has been named the 2012 Best Hotel & Lodging Mobile Application by the Web Marketing Association- LodgeNet Mobile. LodgeNet, the company that serves 1.8 million hotel rooms, (85% of the U.S.
Top 97 Travel Apps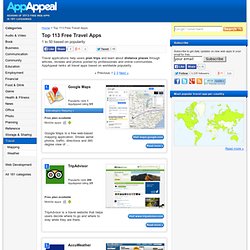 Home > Top 114 Free Travel Apps 1 to 50 based on popularity Travel applications help users plan trips and learn about distance places through articles, reviews and photos posted by professionals and online communities.
2011 Business Travel 50: How Social Media Has Changed Business Travel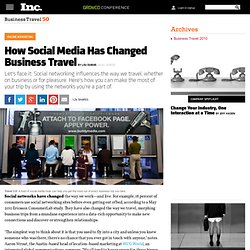 Let's face it: Social networking influences the way we travel, whether on business or for pleasure. Here's how you can make the most of your trip by using the networks you're a part of. Getty Travel 2.0: A host of social media tools can help you get the most out of every business trip you take. 440 in Share Connect with Evernote:
The Social Travel Series is supported by join.me , the easiest way to have an online meeting. join.me lets you instantly share your screen with anyone, for free. Use it to collaborate, demo, show off — the possibilities are endless. Try it today . Even if you're trekking into the wilderness, you need never be without some friendly guidance from your social network. There are hundreds of travel booking websites — many featuring peer reviews — that travelers find immensely helpful . But beyond the Kayaks and the Jetsetters of the world, there are numerous ways to tap your social network and crowdsource public opinion to help you assemble your travel plans.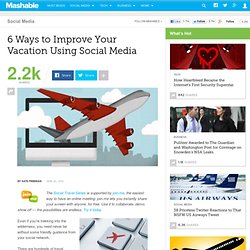 6 Ways to Improve Your Vacation Using Social Media
iPad Apps, iPhone Apps, Deals and Discovery at App Shopper - Top 200 (Free) in Travel for iPhone
Best Travel Websites and Apps
GateGuru, Airport Info & Flight Status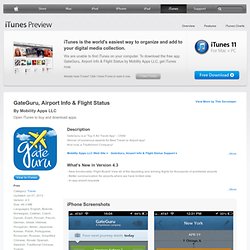 Description
The wait is over. Dwellable for iPad is now available for download in the App Store! Those big, beautiful photos?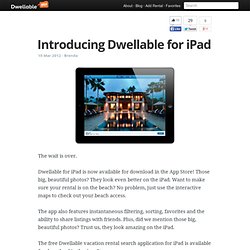 Introducing Dwellable for iPad - DwellableTrends