Research & Reference
Research -- Writers Write(R) Search Boxes Don't miss our handy collection of search boxes which allow you to search the major search engines and specialty search engines, including business directories, encyclopedias, dictionaries, news databases and people finders.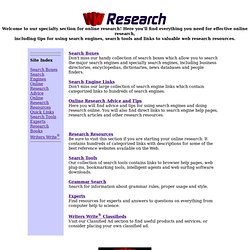 Search Engine Links Don't miss our large collection of search engine links which contain categorized links to hundreds of search engines. Online Research Advice and Tips Here you will find advice and tips for using search engines and doing research online. You will also find direct links to search engine help pages, research articles and other research resources. Research Resources Be sure to visit this section if you are starting your online research. Maps.
Human Languages
Primary Research. General Reference Websites. World Facts. Events & People in History. Conversion Calculators. Weather. Time & Date. Q&A. Research Organization, Sharing, Publishing. Internet Searching.
Natural Sciences - Info & Research. Fact Check Websites.
---