Inspiration
Inspired By StyleCookie
When Anke and Sanne, two stylists and a photographers from The Netherlands, wrote to me about StyleCookie I knew I had to share their new e-zine with you. They launched StyleCookie (yes it is also one word, it is considered trendy in the Netherlands and Germany to combine two English words into one it seems) as an inspiring space online in the form of an e-zine and a blog about decoration and inspiring products for the home that changes biweekly. Their latest theme is Paper, in Dutch it's called "Papier en Vliegwerk".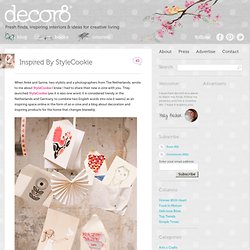 ¿Cuadro de corazones o de alas negras? : x4duros.com Un día con Lack: ¡vaya tela! | IKEArte
Otra forma de dar un toque personal a vuestra mesa Lack es utilizar telas de vivos estampados para decorarla. En este caso también vamos a necesitar pocos elementos para transformar nuestra Lack : simplemente necesitaremos la mesa, la tela que vayamos a utilizar (mejor que sobre por los lados), y barniz acrílico transparente. El proceso es sencillo: primero limpiaremos y lijaremos la parte superior de la mesa, y después aplicaremos una capa del barniz acrílico para que la tela se adhiera a la mesa.
Lia&cia, regalos originales, regalos artesanales
Lia&cia, regalos artesanales, regalos originales