Bodas
Photos: weddings. Showing posts with label photos: weddings.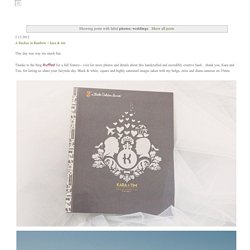 Show all posts A Ruckus in Rainbow // kara & tim This day was way too much fun. Thanks to the blog Ruffled for a full feature-- visit for more photos and details about this handcrafted and incredibly creative bash... thank you, Kara and Tim, for letting us share your fairytale day. Black & white, square and highly saturated images taken with my holga, zeiss and diana cameras on 35mm. Style Me Pretty - The Ultimate Wedding Blog. Glamour and Grace | For the Modern Vintage Bride.
The Pretty Blog | Wedding Blog South Africa | Wedding Venues | Wedding Inspiration.
---