Architecture
Far out hippie-style homes. When hippies retire among the waves of Baby Boomers, where do they hang up their tie-dye?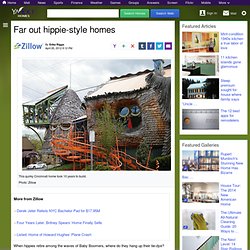 Because not everyone wants a condo on a golf course in Hilton Head, or fits the Florida lifestyle where mall walking is a daily form of exercise to beat the heat and humidity. Not that there is anything wrong with either of those, but perhaps the answer for anti-establishment types is an off-beat home. Perhaps a dwelling that can fit so seamlessly into the landscape, it's tough to tell it's there. Amazingly Colorful Homes. Architecturally Striking Concrete Home with Views of the Swiss Alps. High above Lake Lucerne, with breathtaking views of the water and the Alps in Switzerland, lies this massive contemporary home with an architecture that is truly dazzling.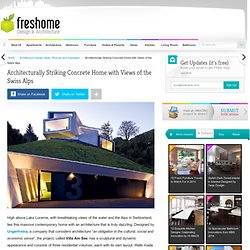 Designed by Ungertreina, a company that considers architecture "an obligation in the cultural, social and economic sense", the project, called Villa Am See, has a sculptural and dynamic appearance and consists of three residential volumes, each with its own layout. Walls made of thick glass, each focus on a different section of the magnificent panorama. A glass portal next to the massive steel garage door leads into a corridor which further directs towards the three stacked living concrete "boxes". The corridor is in fact a ramp to the elevator. House R / Roger Christ. Architects: Roger Christ Location: Karlsruhe, Germany Assistants: Ronni Neuber, Julia Url Structural Engineering: Schmitt + Thielmann und Partner Project Year: 2010 Project Area: 455 sqm Photographs: Thomas Herrmann The property once was a part of a northern situated villa.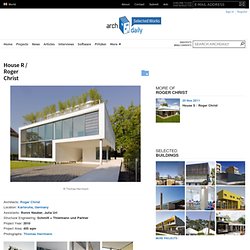 A pavilion, which belongs to the historic ensemble, is part of the wall that encloses the property on all three sides. The 4-storey single-family house is reached via a forecourt and a ramp. The main entrance on the northern side and a second entrance via the carport lead to the entrance area.
Innovations. Landscaping. Interior Design.
---