Outils de la pensée Visuelle
sketching software
13,647 views Pourquoi et comment utiliser le Mind Mapping? Voici une presentation qui repond en partie a la question... Decouvrez des usages pratiques et des cas d'utilisations precis du management visuel et du ...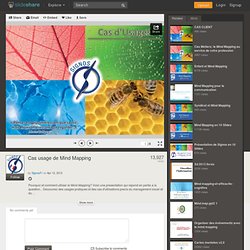 Cas usage de Mind Mapping
Moteur à co-conception (beta)
Cartes sensibles
presentation software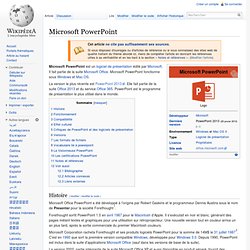 Microsoft Office PowerPoint
Un article de Wikipédia, l'encyclopédie libre. Microsoft PowerPoint est un logiciel de présentation édité par Microsoft. Il fait partie de la suite Microsoft Office. Microsoft PowerPoint fonctionne sous Windows et Mac OS. La version le plus récente est PowerPoint 2013.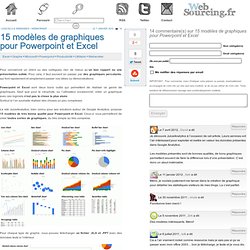 15 modèles de graphiques pour Powerpoint et Excel
Pour convaincre un client ou des collègues, rien de mieux qu'un bon rapport ou une présentation solide. Pour cela, il faut souvent en passer par des graphiques percutants, qui font rapidement et simplement passer vos idées ou démonstrations. Powerpoint et Excel sont deux bons outils qui permettent de réaliser ce genre de graphiques. Sauf que pour le néophyte, ou l'utilisateur occasionnel, créer un graphique avec ces logiciels n'est pas la chose la plus aisée.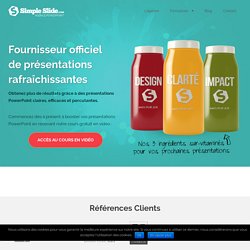 Croquis n°0 : Le point zéro Vous avez un objectif en tête et vous mourrez d'envie de vous mettre au travail pour l'atteindre. Voilà qui est parfait … à un détail prêt. Vous ne savez absolument pas par où commencer. Si ce projet vous tient à cœur, il y a de fortes chances qu'il s'agisse d'un projet complexe, nécessitant beaucoup d'investissement … Continue Reading Efficacité personnelle
Logiciel présentation 3D ?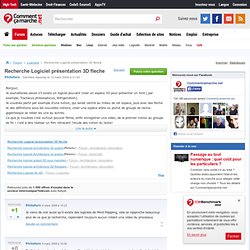 Bonjour, Je souhaiterais savoir s'il existe un logiciel pouvant creer un espace 3D pour présenter un livre [ par exemple, Tractacus philosophicus, Wittgenstein]. Je voudrais partir par exemple d'une notion, qui serait centré au milieu de cet espace, puis avec des fleche et des définitions sous les nouvelles notions, creer une espèce arbre ou plutot de groupe de racine gigantesque se relian les une au autres. Ce que je voudrais c'est surtout pouvoir filmer, enfin enregistrer une video, de la premier notion au groupe de fin ( c'est à dire réaliser un film retraçant l'etude des notion du texte) Merci de votre aide.
Hacking output from the SketchUp Web Exporter. | concept3D Blog
SketchUp Web Exporter Beta
Prezi 3D
Mind Mapping Apps: iPad/iPhone Apps AppGuide
Overview The iPhone and iPad provide several avenues for organizing your ideas and thoughts. In addition to text editors, list organizers, and outlining applications another category exists for Mind Mappers.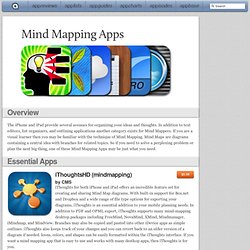 Popplet , une nouvelle application pour Ipad entre mind mapping et concept mapping ,vidéo 1'30
J'ai le plaisir de reproduire ci dessous mon interview réalisée par Alexandre FRANK à propos de Story@board (disponible sur Amazon) "Story@board comporte 100vignettes images qui représentent des scènes de la vie de l'entreprise avec lesquelles lesparticipant s'identifient immédiatement"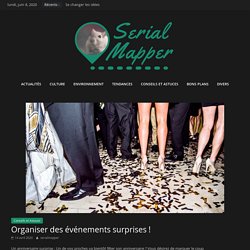 What is Dipity? Dipity is a free digital timeline website. Our mission is to organize the web's content by date and time. Users can create, share, embed and collaborate on interactive, visually engaging timelines that integrate video, audio, images, text, links, social media, location and timestamps. Who is Dipity for? Dipity timelines are for anyone who uses the Internet.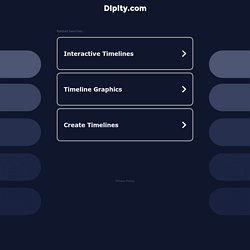 Gource - Software Version Control Visualization Tool
Gource is a software version control visualization tool. See more of Gource in action on the Videos page. Introduction Software projects are displayed by Gource as an animated tree with the root directory of the project at its centre.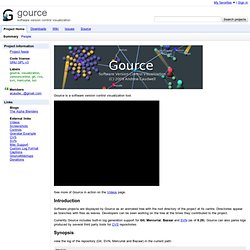 The icons represent the basic elements of the Dialogue Mapping™ grammar (called IBIS): Questions, Ideas, Pros and Cons. This is a very simple map, meant to convey the basics of IBIS. In real meetings and projects the maps are much larger, more complex, and can be nested deeply. Here's an example of some larger maps from a 2-day strategic planning meeting: This combination of (i) a shared hypertext display, (ii) a trained facilitator, and (iii) a conversational grammar is Dialogue Mapping™.
Dialogue Mapping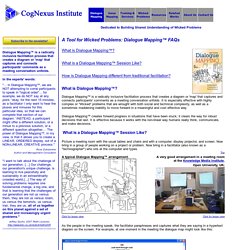 What software do you use for Issue and Dialogue Mapping? We recommend using Compendium software for this type of mapping, as it allows you to extend, reuse and share IBIS maps far more easily than with hand-drawn maps or indented text IBIS (itIBIS) structures. Compendium was initially developed in Verizon research labs as a next generation version of the QuestMap product. QuestMap was the first commercially available software that supported the IBIS (Issue-Based Information System) methodology, as used in Dialogue Mapping. Learning Compendium requires a bit of time investment, but we believe it is the best software currently available to do this kind of mapping.
Compendium
DebateGraph
Pearltrees, outil majeur du web
Chart Tools - Google Code
Applications Exploratory Data Analysis: intuition-oriented analysis by networks manipulations in real time. Link Analysis: revealing the underlying structures of associations between objects, in particular in scale-free networks.
Gephi
Fonctionnalités générales Gephi est un logiciel pour visualiser, analyser et explorer en temps réel les graphes (aussi appelés réseaux ou données relationnelles) de tout type. Sorte de Photoshop pour les réseaux, l'utilisateur interagit avec la représentation graphique, manipule les structures, formes et couleurs pour en révéler les propriétés cachées via des saillances visuelles. L'objectif est de faciliter l'analyse de données dans la génération d'hypothèses, la découverte intuitive de patterns, l'isolement de singularités ou la détection d'erreurs liées à la captation des données. C'est un outil complémentaire à l'analyse statistique, qui se positionne dans le mouvement de l'Analyse Exploratoire des Données. La liste des fonctionnalités est disponible sur cette page.