Outils de la pensée Visuelle
sketching software
Cas usage de Mind Mapping
Moteur à co-conception (beta)
Cartes sensibles
presentation software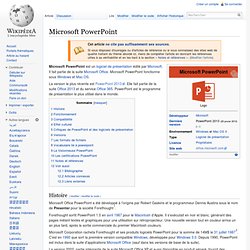 Microsoft Office PowerPoint
Un article de Wikipédia, l'encyclopédie libre. Microsoft PowerPoint est un logiciel de présentation édité par Microsoft. Il fait partie de la suite Microsoft Office. Microsoft PowerPoint fonctionne sous Windows et Mac OS. La version le plus récente est PowerPoint 2013.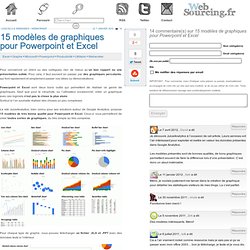 15 modèles de graphiques pour Powerpoint et Excel
Pour convaincre un client ou des collègues, rien de mieux qu'un bon rapport ou une présentation solide.
Logiciel présentation 3D ?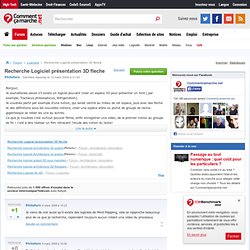 Bonjour, Je souhaiterais savoir s'il existe un logiciel pouvant creer un espace 3D pour présenter un livre [ par exemple, Tractacus philosophicus, Wittgenstein]. Je voudrais partir par exemple d'une notion, qui serait centré au milieu de cet espace, puis avec des fleche et des définitions sous les nouvelles notions, creer une espèce arbre ou plutot de groupe de racine gigantesque se relian les une au autres. Ce que je voudrais c'est surtout pouvoir filmer, enfin enregistrer une video, de la premier notion au groupe de fin ( c'est à dire réaliser un film retraçant l'etude des notion du texte) Merci de votre aide.
Hacking output from the SketchUp Web Exporter. | concept3D Blog
SketchUp Web Exporter Beta
Prezi 3D
Mind Mapping Apps: iPad/iPhone Apps AppGuide
Overview The iPhone and iPad provide several avenues for organizing your ideas and thoughts. In addition to text editors, list organizers, and outlining applications another category exists for Mind Mappers.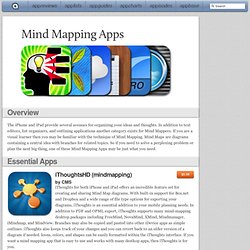 Popplet , une nouvelle application pour Ipad entre mind mapping et concept mapping ,vidéo 1'30
Gource - Software Version Control Visualization Tool
Gource is a software version control visualization tool.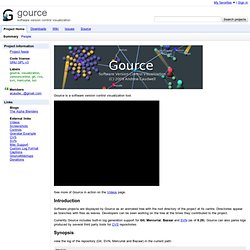 Maybe Patrice will run the logs through Gource for us to see how Pearltrees has evolved??? by pauljacobson Dec 30
The icons represent the basic elements of the Dialogue Mapping™ grammar (called IBIS): Questions, Ideas, Pros and Cons.
Dialogue Mapping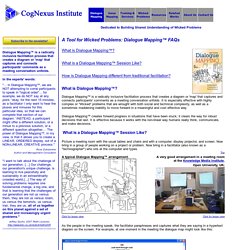 What software do you use for Issue and Dialogue Mapping?
Compendium
DebateGraph
Pearltrees, outil majeur du web
Chart Tools - Google Code
Gephi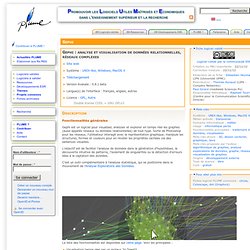 Fonctionnalités générales Gephi est un logiciel pour visualiser, analyser et explorer en temps réel les graphes (aussi appelés réseaux ou données relationnelles) de tout type. Sorte de Photoshop pour les réseaux, l'utilisateur interagit avec la représentation graphique, manipule les structures, formes et couleurs pour en révéler les propriétés cachées via des saillances visuelles. L'objectif est de faciliter l'analyse de données dans la génération d'hypothèses, la découverte intuitive de patterns, l'isolement de singularités ou la détection d'erreurs liées à la captation des données. C'est un outil complémentaire à l'analyse statistique, qui se positionne dans le mouvement de l'Analyse Exploratoire des Données. La liste des fonctionnalités est disponible sur cette page.