Vie privée
Voici notre top 10 des raisons pour lesquelles vous feriez mieux d'arrêter d'utiliser Facebook avant qu'il ne soit trop tard:
10 bonnes raisons d'abandonner Facebook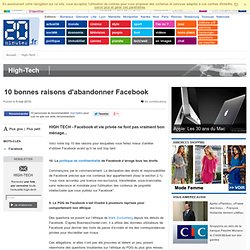 Facebook, MySpace and other social networks have apparently been sending personal and identifiable information about users to advertisers without consent, despite assurances to the contrary. Large advertising companies including Google's DoubleClick and Yahoo's Right Media have received information including usernames and ID numbers that could be traced back to individual profiles as users clicked on ads. The data could potentially be used to look up personal information about the user, including real name, age, occupation, location and anything else made public on the profile. Both of the aforementioned companies denied being aware of the "extra" data they were receiving and claim they have not made use of it. The Wall Street Journal reports that since questions were raised about the practice with Facebook and MySpace, both companies have since rewritten at least some of the code that allowed transmission of identifiable data.
Facebook and Others Caught Sending User Data to Advertisers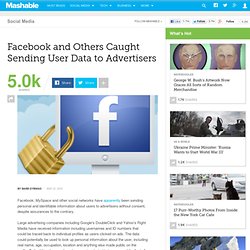 Facebook Privacy Makes The Cover of Time Magazine
Facebook, royaume du narcissisme et de l'exhibitionnisme se
Facebook utilisé comme preuve légale lors d'un procès à Sin