iPad
Sample Lessons - iPad in Education. The following lesson ideas utilize several of the Lite or free apps available for the iPad.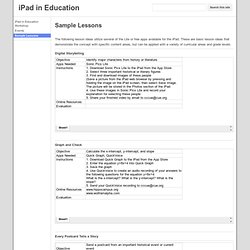 These are basic lesson ideas that demonstrate the concept with specific content areas, but can be applied with a variety of curricular areas and grade levels. Digital Storytelling Graph and Check Every Postcard Tells a Story Every Postcard Tells a Story. Sample Lessons - iPad in Education. The Complete List of iPad Tips, Tricks, and Tutorials. The Apple iPad is an amazing tablet, and to help you get the most out of it, we've put together a comprehensive list of every tip, trick, and tutorial for you.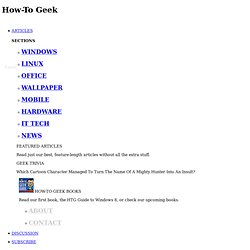 Read on for more. Note: This article was originally published earlier this year, but we've updated it with a real lot more content since then, so we're republishing it for you. We'll be keeping this page updated as we find more great articles, so you should bookmark this page for future reference. How to Maximize Your iPad's Battery Life. iPad AND iPod Resources and Lessons. iPads for Learning - Getting Started. iPads in the Classroom. Digital Kindergarten. APPitic - 1,300+ EDUapps.
---