Positive and Uplifting
Walk Across America – Nate Walks America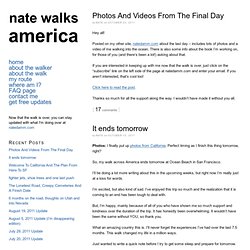 Hey all! Posted on my other site, natedamm.com about the last day – includes lots of photos and a video of me walking into the ocean. There is also some info about the book I'm working on, for those of you (and there's been a lot!) asking about that. If you are interested in keeping up with me now that the walk is over, just click on the "subscribe" link on the left side of the page at natedamm.com and enter your email. If you aren't interested, that's cool too!
Bob Marley Quotes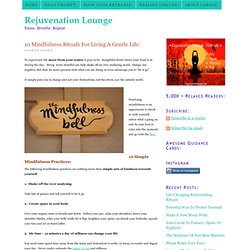 To experience life more from your centre it pays to be thoughtful about where your head is at during the day. Being more mindful can help shake off an over analzying mind, change any negative chit chat, be more present with what you are doing or even encourage you to "let it go". It simply puts you in charge and not your distractions, not the stress, nor the outside world.
10 Mindfulness Rituals For Living A Gentle Life: | Rejuvenation Lounge
How an Internal Program Upgrade Empowers You
What do you do when you want your computer to perform a task that is currently beyond its ability? We upgrade it, right? Sometimes it is a major system upgrade and sometimes it is just a matter of upgrading a single program. But one way or another we make some internal changes so it will perform better. We all accept this concept; otherwise we wouldn't be able to function online. In fact, we do this type of upgrading in many areas of life because technology moves forward and if we want to be a player we need to keep up.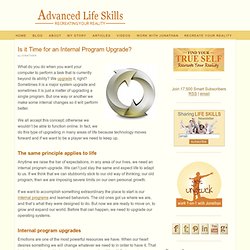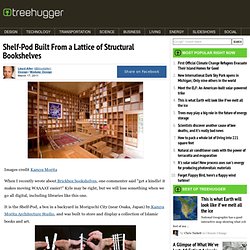 Images credit Kazuya Morita When I recently wrote about Brickbox bookshelves, one commenter said "get a kindle! it makes moving WAAAAY easier!" Kyle may be right, but we will lose something when we go all digital, including libraries like this one. It is the Shelf-Pod, a box in a backyard in Moriguchi City (near Osaka, Japan) by Kazuya Morita Architecture Studio, and was built to store and display a collection of Islamic books and art.
Shelf-Pod Built From a Lattice of Structural Bookshelves : TreeHugger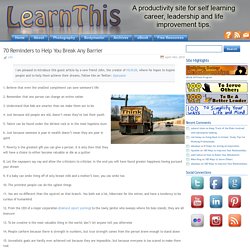 I am pleased to introduce this guest article by a new friend John, the creator of HiLife2B, where he hopes to inspire people and to help them achieve their dreams. Follow him on Twitter: @janyasor 1. Believe that even the smallest compliment can save someone's life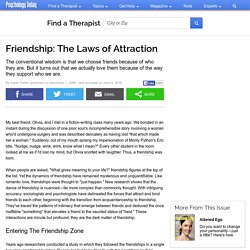 My best friend, Olivia, and I met in a fiction-writing class many years ago. We bonded in an instant during the discussion of one poor soul's incomprehensible story involving a woman who'd undergone surgery and was described delicately as having lost "that which made her a woman." Suddenly, out of my mouth sprang my impersonation of Monty Python's Eric Idle, "Nudge, nudge, wink, wink, know what I mean?" Every other student in the room looked at me as if I'd lost my mind, but Olivia snorted with laughter . Thus, a friendship was born.
Friendship: The Laws of Attraction
I'll step out of the way and let the quotes speak for themselves: "Fall seven times; stand up eight." – Japanese proverb (click to tweet) "You must give up the life you planned in order to have the life that is waiting for you." – Joseph Campbell (click to tweet)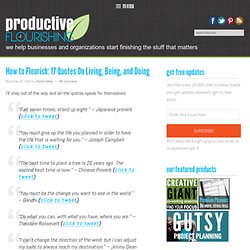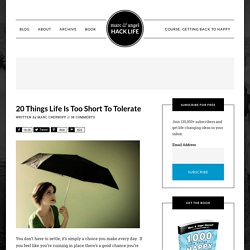 post written by: Marc Chernoff Email You don't have to settle, it's simply a choice you make every day. If you feel like you're running in place there's a good chance you're tolerating things you shouldn't be.
Effective Apology: Mending Fences, Building Bridges, and Restoring Trust by John Kador
Effective Apology: Mending Fences, Building Bridges, and Restoring Trustby John KadorPosted by: DailyOM The Effective Apology is the definitive guide to discovering the transformative power of apology. It identifies the five building blocks of effective apology as well as concrete steps for accepting or rejecting apologies, ten apology do's and don'ts, and includes a quiz to test your Apology Quotient. It also tracks how changing attitudes and new laws now make apology the preferred response to mistakes and failures in all situations. There's nothing easy about apology.