BANKSY
Banksy in his own words. 80+ Beautiful Street Crimes done by BANKSY. Asked about his technique, Banksy said: "I use whatever it takes.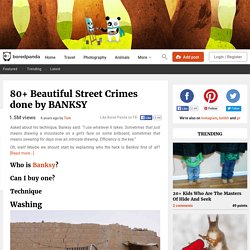 Sometimes that just means drawing a moustache on a girl's face on some billboard, sometimes that means sweating for days over an intricate drawing. Efficiency is the key." Oh, wait! Banksy. Banksy is a pseudonymous United Kingdom-based graffiti artist, political activist, film director, and painter.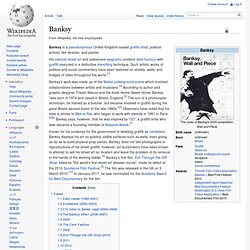 His satirical street art and subversive epigrams combine dark humour with graffiti executed in a distinctive stencilling technique. Such artistic works of political and social commentary have been featured on streets, walls, and bridges of cities throughout the world.[1] Banksy's work was made up of the Bristol underground scene which involved collaborations between artists and musicians.[2] According to author and graphic designer Tristan Manco and the book Home Sweet Home, Banksy "was born in 1974 and raised in Bristol, England.[3] The son of a photocopier technician, he trained as a butcher, but became involved in graffiti during the great Bristol aerosol boom of the late 1980s.
---