Blog
Blog inspiratie - Lisanneleeft.nlLisanneleeft.nl. Een probleem waar de gemiddelde blogger regelmatig tegenaan loopt: een gebrek aan inspiratie.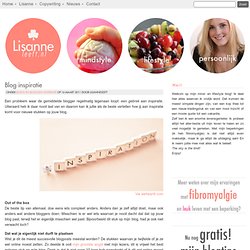 Uiteraard heb ik daar nooit last van en daarom kan ik jullie als de beste vertellen hoe jij aan inspiratie komt voor nieuwe stukken op jouw blog. Via weheartit.com Out of the boxDe beste tip van allemaal, doe eens iets compleet anders. Anders dan je zelf altijd doet, maar ook anders wat andere bloggers doen. Misschien is er wel iets waarvan je nooit dacht dat dat op jouw blog past, terwijl het er eigenlijk misschien wel past. Alyssaa.nl * The world through my eyes. O1a Hoge School Zeeland. O1a Hoge School Zeeland.
Love, Live, Embrace Life... ANNEMEREL.COM. Bakerella.com. Daydream Believer: Tutorials. Iliveformydreams. Dresses and Daisies. Teskuh.nl. THE SMELL OF VANILLA. Serena's Site. WayMadi. Media — Blogs, Afbeeldingen, en veel meer op WordPress. Linnie in wonderland.
---