Crochet
Free Crochet Pattern 90324AD Wind Chime Afghan. AFGHANFIRST STRIP With A, ch 174.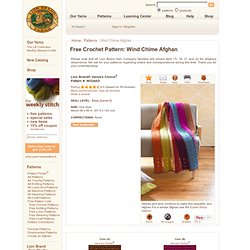 Row 1 (WS): Dc in 4th ch from hook (beginning ch counts as dc) and in each ch across – 172 dc at end of this row. Rows 2 and 3: Ch 3 (counts as first dc here and throughout), turn, dc in each st across. Row 4: Ch 3, turn, dc in next 3 sts, *ch 2, sk next 2 sts, dc in next 4 sts; rep from * across – 28 ch-2 sps at end of this row. Rows 5-7: Rep Row 2. Fasten off. Over 250 Free Crocheted Square Patterns at AllCrafts! The best FREE patterns so WONDERFUL people like YOU can create and SHARE!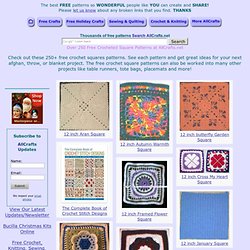 Please let us know about any broken links that you find. THANKS. Crochet! -- Talking crochet ... Lacy Diamonds Cardigan Design by Margeret Willson, Member, Crochet Guild Of America Indulge in the fresh, feminine appeal of this beautifully styled, lightweight sweater that features repeating openwork diamonds on the front and sleeves.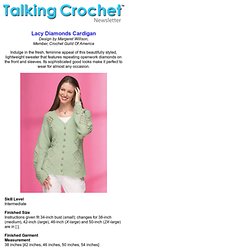 Its sophisticated good looks make it perfect to wear for almost any occasion. Skill Level Intermediate Finished Size Instructions given fit 34-inch bust (small); changes for 38-inch (medium), 42-inch (large), 46-inch (X-large) and 50-inch (2X-large) are in [ ]. E-Patterns, Downloadable Patterns. Angel Afghan. Size 52" x 66" Materials Crochet Hook: I (or size to obtain gauge)Red Heart® Super Saver (50 oz.) - AranTapestry Needle Free Video Support Part 1 (right-handed) Part 2 (right-handed) Part 1 (left-handed) Part 2 (left-handed) Gauge Each square measures approximately 8.5 inches Special Stitches.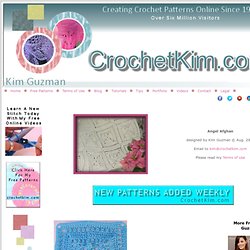 Free Crochet Patterns. Home Crochet Share this page on: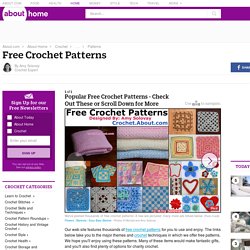 Links To Learn Crochet Stitches Techniques Step By Step With Photos Or Diagrams. Where to Find Crochet Stitches and Techniques How-to Pages Each how-to is by Sandi Marshall and has step-by-step photos or includes diagrams.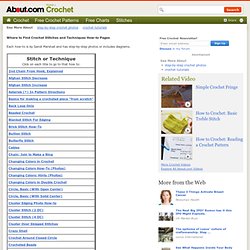 Note: I update this chart each time I add more pages of stitch and technique instruction to this site. -- Sandi Step-by-Step Text How-to's: How to do the Crazy Shell, Diagonal Crochet (also called Corner Start), Crocheting Beaded Fringe and more. Crochet Help For Very Beginners. Crochet Poet's Pattern Collection. Directory of Free, Online Crochet Patterns by Category.
---